Case Study Interview: PSE certification for rotary-number power strips essential to the MINISTRY of Education, Culture, Sports, Science and Technology's GIGA School Initiative
Hello. It is a hori of the manager.
This time, we will post an interview article that we conducted for companies that have certified us.
Looking back, we received requests for PSE specific electrical appliances for complex machines, and we experienced a variety of processes indescribably.
We worked together in a variety of ways so that the word "two-person tripod" was perfect, and in the end it seemed that our customers were satisfied, and it was a valuable job that we were able to see a new future prospect.
We are happy to respond to this interview, and I think that there is a part that readers can refer to, and we will publish it.
See the article. 
Requester

E-ETC Co., Ltd.
Mr. Akira Nakao, Director and General Manager
Mr. Fukumitsu Kono, Sales Engineering Department
Interview: INSIGHT WORKS Co., Ltd. Hori
"We will respond to customer expectations with the idea of "providing optimal customization even in small quantities", and provide peace of mind with domestic production and long-term stable supply, utilizing our experience in medical and automotive computers, and we will develop an industrial embedded computer business centered on open OS and open platform. In particular, we are a manufacturer that sells box-type computers and panel computers, etc., mainly embedded board computers."
Quoted from e-ETC Co., Ltd. website
Official website: http://www.eht.co.jp/
E-H T Co., Ltd. (EHT) conducts contract development of new product base boards and cases from government agencies and private companies in Japan. The company also has a wide network with domestic factories, and can plan, develop, and even produce ordered products. Both the public and private sectors have a reputation for their high development capabilities cultivated over many years.
Features of PSE-certified rotary power strips and background of development
Director Nakao (hereinafter Referred to as Nakao): There is currently a policy called the GIGA School Initiative promoted by the Ministry of Education, Culture, Sports, Science and Technology. Simply put, it is an initiative to give tablets, PCs, etc. to each student in school classes. Currently, elementary and junior high schools are the main, but it is expected to spread to high schools in the future.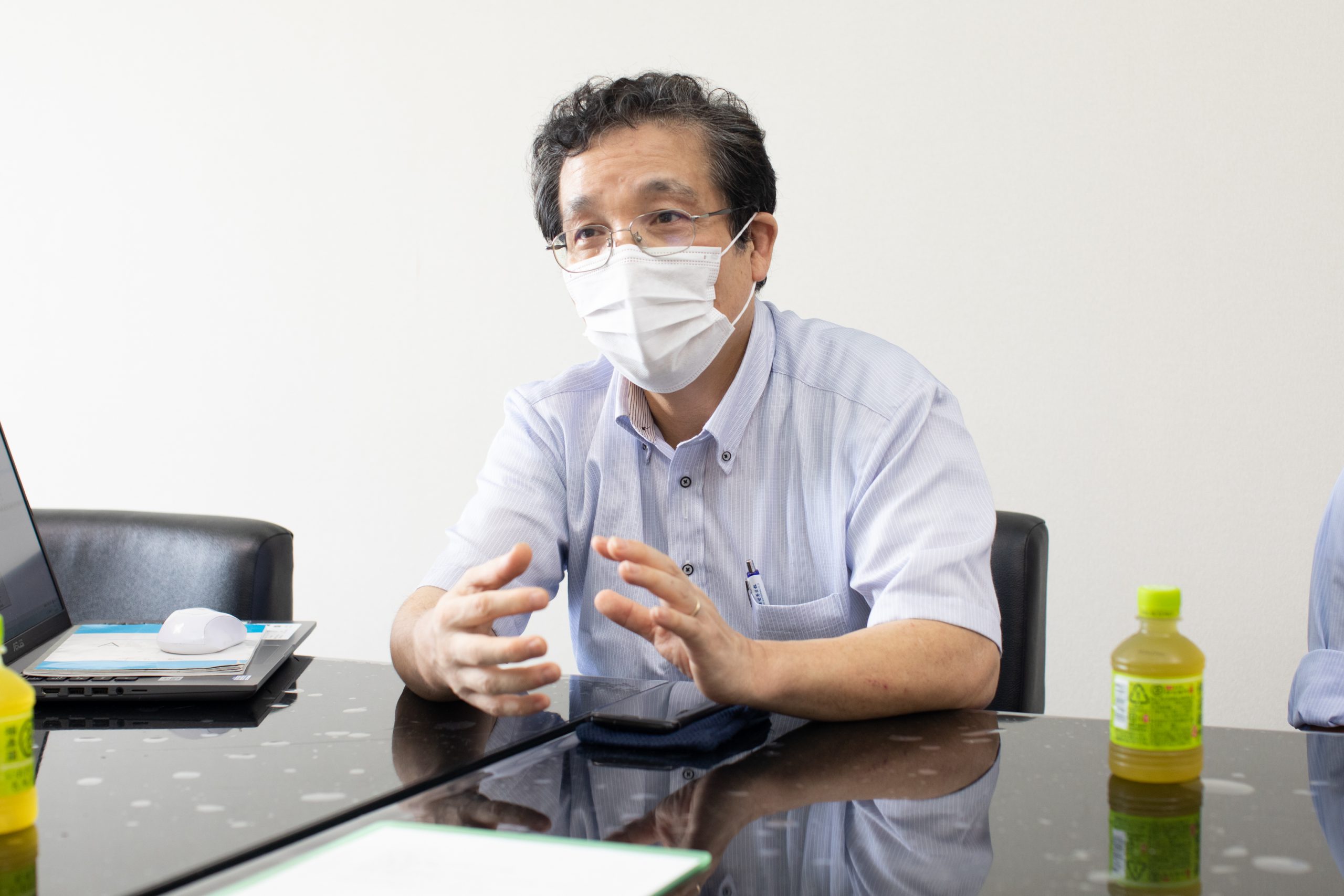 Director Nakao
Hori: That's a great initiative. I didn't know about the GIGA School Initiative until I was embarrassed to receive a request.
Nakao: It's great, but there's one big problem, and when students in school start charging (cabled) uniformly, the breaker will fall as soon as it is. There is a "USB-HUB 10 port fast charging" that we have developed, and as the product name 10 USB can be connected, but as a class of 40 people, four are required.
Nakao: As I said earlier, it would be difficult if four cars (40 people) had a charging connection to one side in one class alone. On the other hand, there is no need to charge for a long time, and it is enough to be able to do it once every 1 to 2 hours. The developed power strip is a wheel number type, and the four power supplies are automatically switched on / off due to the time difference.
By controlling the power supply in this way, it is possible to supply power to children's tablets in a stable and consistent manner.
Hori: So to speak, the realization of the "GIGA School Concept" of the Ministry of Education, Culture, Sports, Science and Technology depends on this rotary power supply tap.
Nakao: Of course, we're not the only company that makes it, but I think that's a big factor. However, the product planning was launched around mid-March, and it started making in April and was released at the end of June. As expected, I thought that it would be tough in such a short period of time, but of course it was a business opportunity, so we had to hurry up to arrange PSE certification along with product development.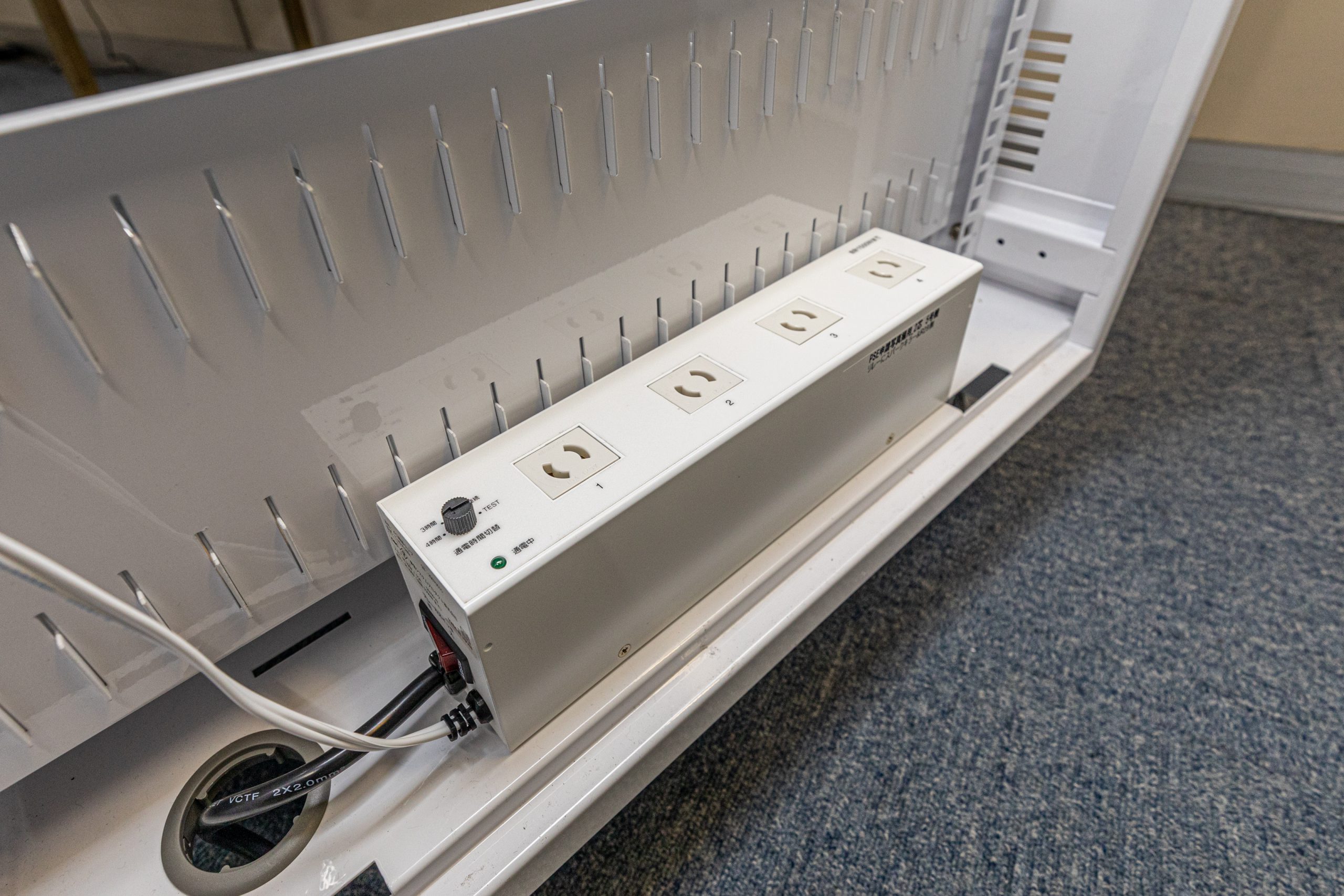 Wheel number power strip
How I asked INSIGHT WORKS for authentication
Kono: We needed to authenticate in a short period of time, and we were looking for a variety of agency companies on the Internet. I picked up several companies, and INSIGHT WORKS was one of two of them.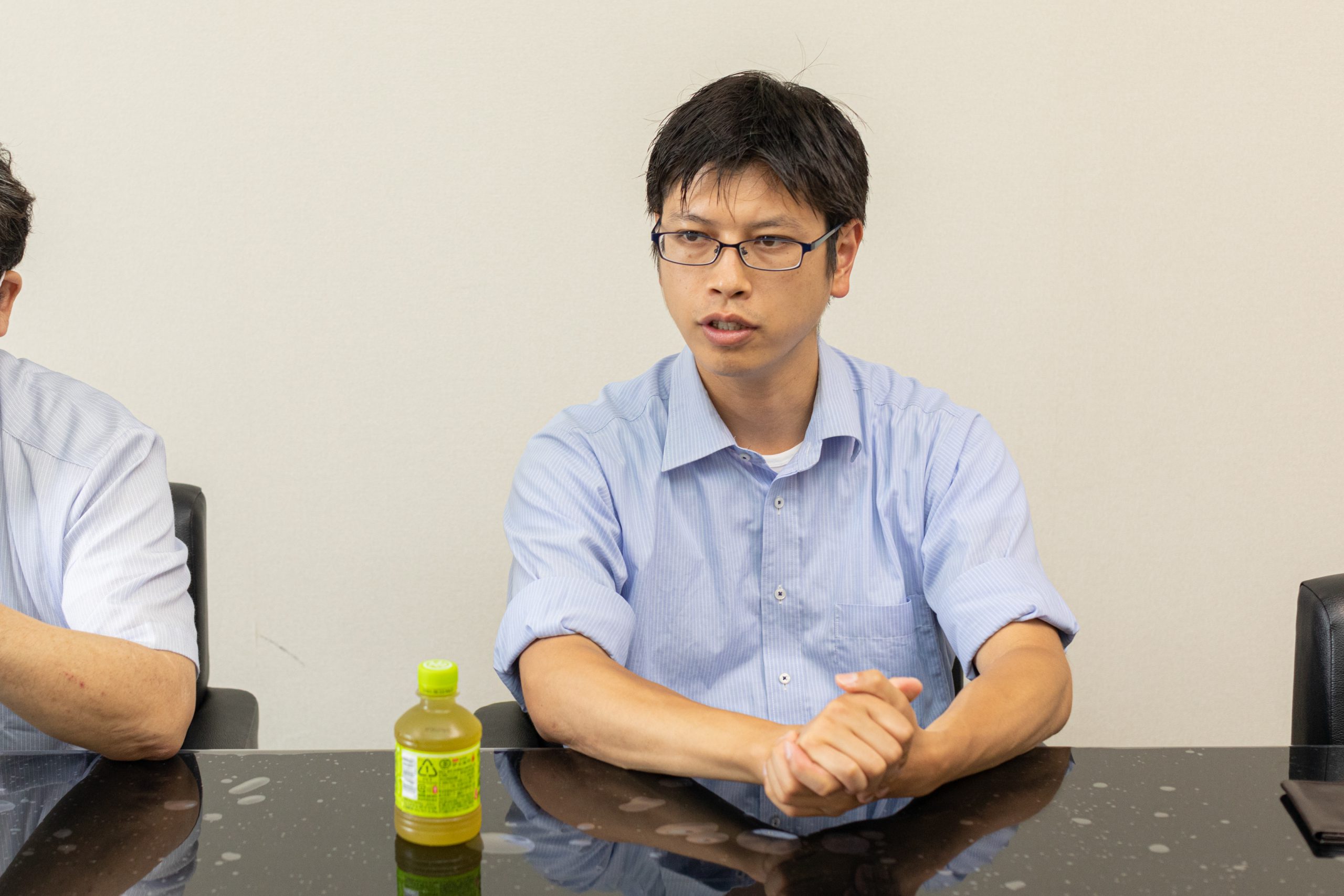 Mr. Kono
Hori: What was your first impression of our company?
Kono: To be honest, as far as I can see on the Internet, I felt that the amount of information was large, but I felt that it was a company that mainly deals on small-scale projects lol. However, I talked with Mr. Hori on the phone, and I remember that I was familiar with PSE and had a good impression.
Hori: Thank you.
Kono: However, we decided to ask other companies that had already started working at the beginning.
Nakao: I was impressed that Kono asked me why after I contacted him. You're hard at work.
Kono: It was before the consecutive holidays in the second half of April, and when the consecutive holidays ended, I was trying to proceed with certification at once, but suddenly the company I had requested was unable to work due to various circumstances, and I decided to ask INSIGHT WORKS again.
Kono: Even though I don't have time until the delivery date, I suddenly returned to the pitch and I was very impatient, so I decided to have a skype meeting with Mr. Hori.
Proposal from INSIGHT WORKS: Using a Chinese (overseas) certification body
Nakao: Until now, we have basically been developing in Japan, so it is common to use JET (Institute for Electrical Safety and Environment) to conduct PSE tests. Of course, I was going to do that for this exam.
Hori: I heard from Mr. Nakao in mid-May, but in the midst of the declaration of a state of emergency due to the coronavirus, there was information that not only JET but also inspection organizations in Japan were shrinking, so I thought that it would not be in time for the specified delivery date, so I proposed the use of a Chinese certification body.
Nakao: When Hori-san asked me to use the CQC (China Quality Certification Center), honestly, where is it? It was an impression that. The business partners who sell said the same thing, but when I looked at the page of the registered inspection organization of the Ministry of Economy, Trade and Industry, I was relieved that it was not strange because the name was firmly written.
Kono: There are no human resources who can speak Chinese at our company, but the certified technical advisor of INSIGHT WORKS is Chinese, and there is no problem with negotiations with CQC, so we talked that we can make it in time with no delivery date, so I asked you to be honest.
Hori: Even those involved in electrical appliances are not familiar in Japan, but CQC is an international certification body representing China, and it handles not only Japanese certification but also certifications from all over the world. Naturally, we also conduct inspections of PSE specified electrical appliances, and CQC often inspects PSE specified electrical appliances at factories in China, and this time we proposed using CQC at our plants in Japan. The reason for the proposal is that it has been found to demonstrate its maximum power to the "delivery date", which is the key to this request.
Nakao: Are you sure you're all right? There was no doubt that there was anxiety that there was a feeling that I would try it if I had any hope after seeing Mr. Hori who sincerely responded to all of this question.
What's good about INSIGHT WORKS: Responsiveness, responsiveness, and meeting with engineers
Nakao: We knew that the inspection itself was the same regardless of whether it was an inspection organization in Japan or China, so we had the necessary technical documents prepared and sent samples to proceed with the inspection.
Nakao: However, there are differences from the previous perceptions, such as slightly different inspection items between Japanese inspection organizations such as JET and CQC, and it is also true that I was a little confused.
Hori: Even if you inspect the same thing, the approach may be different depending on the inspection institution, so I think that was a difficult part.
Nakao: Because it is a story of maniac technology, I think that there are many people who do not understand much, but I understand if you receive explanations such as handling insulators and ground wires, but to be honest, even if Japanese domestic companies suddenly receive inspections at CQC, you will not be able to pass. However, in other words, I thought that it was true that if there is a person who consults, CQC with relatively short delivery time can be used.
Nakao: So, Hori-san asked me, so I'm happy to answer, but one of the good things about INSIGHT WORKS is the quick response. When I e-mailed it, he returned it roughly immediately, so it was easy to proceed with the work here.
Nakao: In addition, the response ability was good, and if we asked, most of them did it. For example, when I had to send samples to CQC, I had never shipped them overseas, so I sent them to INSIGHT WORKS once and had them transferred overseas several times. Well, the fee was taken firmly, but lol. Also, the Chinese lab that actually conducts the inspection was very careful, and I was grateful that they gave consideration to the delivery date here as much as possible.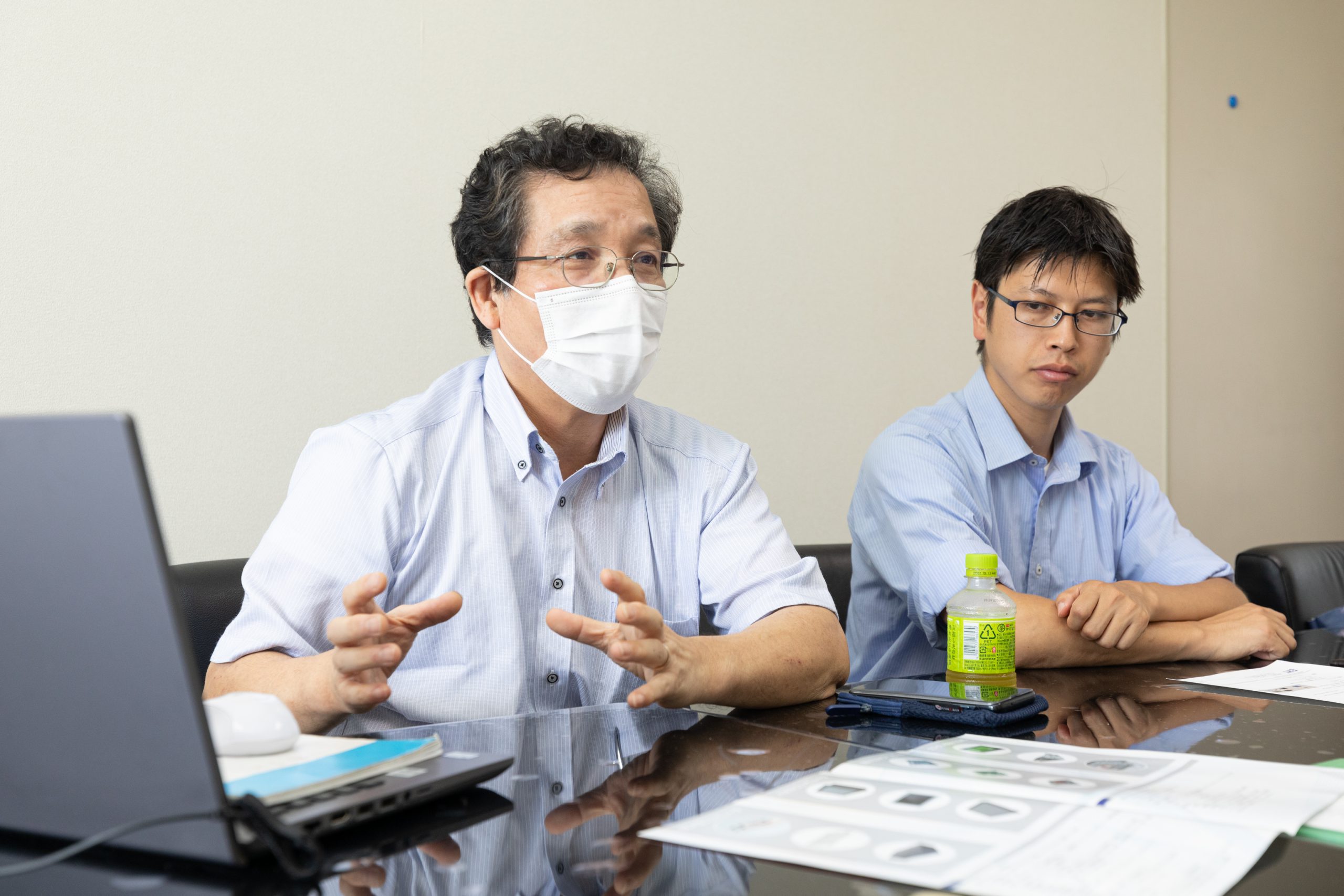 Mr. Nakao and Mr. Kono looking back on those days
Kono: On another point, when I supplemented my response capabilities, I knew that Mr. Hori was not doing the certification business itself, but it was very good to have several skype meetings with the Chinese certification technical advisor in charge.
Kono: I felt like he was a veteran of certification, and I was very relieved to be able to answer all the technical questions in Japanese here. To be honest, I would have been more anxious if I had been interacting only with Mr. Hori, who was in charge of sales, but I was able to talk with the technical person at key points, and it was good that I was able to know that such a person is well managed.
Nakao: After several exchanges, it gradually took shape, and I was worried about what would happen at first, but in the meantime, I felt a sense of relief that it would be quite so.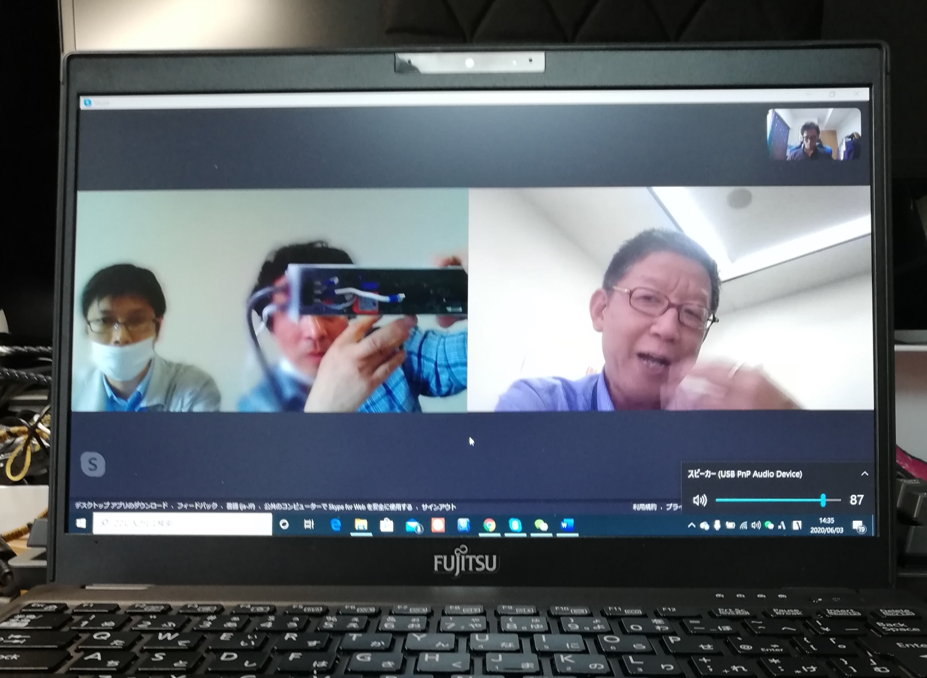 Online meeting scenery
Authentication ends and then
Hori: I received too many words from Mr. Nakao and Mr. Kono, but there were many things and finally it was a little late from the original delivery date. To make a few excuses, the technical advisor I talked to also said, but in recent years it has been a rarely complex test.
Hori: In addition, due to the influence, it took time to issue certificates after the examination, and we regret that. However, I am very grateful that I was in charge of this exam and that we were able to do a job that would give us an opportunity to look ahead to the next stage.
Kono: In any case, we were able to complete the certification safely, and our customers are very pleased, and we are grateful that we are promoting a big business thanks to you.
Nakao: Demand for this product is still large, and I think there will be many consultations in the future, so please continue to have a good date.
Hori: Thank you very much this time. We wish you more success.
Inquiries about certification in Japan
Please contact by E-mail