For those who do not perform authentication such as PSE, PSC, radio lawful work, etc., we will tell you six commonalities that do not work
Hello. It is a hori of the manager.
So far, we have written about products subject to each certification such as PSE, PSC, and Radio Law, and how to explain and proceed with the certification system. At that time, I wrote a little as important in advancing authentication, but I did not clearly write the reason why authentication can not proceed in the first place and it is on the way.
Since we will proceed with all the details here, we are basically working on authentication with the stance that you can throw it all together, but apart from the certification system, we have come to think that it is also important to understand what kind of process the certification is going through.
We can clear all the reasons why authentication does not work, and that's why we are doing business, so it may be a bit of a miso-like story, but I will tell you about the realism of authentication that does not go out too much and is difficult to talk about.
Technical documentation is not available
Pse, PSC, Radio Law, other measurement methods, medical equipment, etc. were all in charge of certification by technical personnel of specialized manufacturers, so we prepared technical materials by ourselves, and even if we outsourced them to production factories in China and other countries, we knew what kind of materials were necessary for inspection in Japan.
On the other hand, in today's world, trade is booming due to the great development of communication means such as the Internet. In addition, the technological level of the Chinese factory, which has been responsible for production plants in Japan and other countries around the world, has been remarkably improved, and we are able to make a variety of products, from similar products to innovative products.
As a result, the number of trading companies that are trying to introduce Chinese products with low production costs and new products to Japan has increased steadily. One problem is that the number of Japanese businessmen who do not understand technical matters is increasing.
I think that there are many people who are viewing this page, so I will proceed with the story mainly with that person.
I have a lot of business knowledge, but I don't understand the basic skills. By no means is this one-sidedly bad, but in fact it is in such a state.
What happens then is that technical documents such as product schematics and specifications, and product parts used are completely meaningless. What comes to this is that even if you're looking for a product that needs certification, you won't know what materials you need to request from the factory.
The factory cannot prepare materials without instructions. So the story suddenly stops here. In addition, it is difficult to determine whether the documents submitted by the factory are really correct.
In addition, an ISO 9001 certification is required for radio law certification. In other words, it is practically impossible to pass radio law certification unless you pass ISO. You will apply for a factory production system, and you will be able to use ISO documents as proof.
In the current Chinese factories, large-scale areas often pass (take the test), but small businesses often do not respond. Some customers would like to apply for the Radio Law for a slightly maniac product, but many have to give up at this point.
We can prepare this document, which is separately charged with certification. However, in that case, cooperation of the factory is indispensable. If you don't understand this, authentication can't go any further.
Don't know what samples to prepare in the factory
Regardless of any certification, product samples must be submitted to the inspection authority. The first thing I make a mistake is, for example, submitting a sample of products made in China or overseas.
If you have some experience, you will not do such a thing, but if you do not know anything, you will be here. In the first place, in China and Japan, the standards of products corresponding to PSE and PSC in Japan are completely different, so if you bring what you made with Tsu Chinese specifications to a Japanese inspection organization as it is, one shot out! are.
For example, in PSE, it is necessary to have the factory change the power outlet used to meet Japanese standards, and in mobile batteries, etc., you have to prepare about 100 sample batteries.
In addition, in terms of the Radio Law, in addition to the usual product samples, you may have to prepare samples for inspection.
Depending on the type of authentication you are going to receive, the form of the sample you prepare will also change, so you have to understand this, but such information will not come to an end easily.
I can't talk to the manufacturer (factory)
The person in charge tells the Chinese manufacturer (factory) to prepare materials and samples, but this is often not easily transmitted.
My client's customer told me that I would like to say hello after that I had all the stories through, and when I contacted the manufacturer, there were several times when I contacted the story at all. Even if the Japanese side intends to say, the Chinese side often recognizes "what is that?".
The biggest thing is that I'll describe it later, but it's still a language problem. There are absolutely few Japanese who can speak Chinese, and some people exchange in English, but if you are a Chinese manufacturer, the easiest way to communicate is Chinese.
If you can't speak Chinese, you need to mediate Chinese who can speak Japanese, but this time you can't talk to the manufacturer unless the Chinese understand the technical things.
It seems to be simple, and in fact, the act of talking to the manufacturer is a quite difficult act without the power and resources.
The relationship between the manufacturer (factory) is unknown.
This is an example of our company, but the client instructed the Chinese manufacturer, but there was a contact that I wanted you to check because there is no movement at all. The request is that you want to change what is displayed in the product.
When I contacted from our company, I found that I was at a loss because it is difficult to extend it to other departments in order to change the product display.
Of course, from the Japanese point of view, you may think that such things should be coordinated with other departments and answered like that from the beginning, but that is the Japanese idea in Japan. Chinese people have chinese company rules and ways of working.
Moreover, it is doubtless to say such internal circumstances fluently, and the way of telling a good way to the Japanese might not be thought of.
In the end, our proposal was to minimize the display content to be changed. We also confirmed that the change alone would be a problem with sales in Japan. That way, the Chinese side only spoke within their own department, and the client was able to convince me.
It is natural to think that there may be something over there without making a fuss immediately just because there is no reply from the Chinese side, but there are many Japanese who do not have much thought. In particular, certified products are often not produced with only some books because of their complex structure.
We do not know the production equipment required for factory inspection
Pse's specific electrical appliances (commonly known as rhombus PSE) and PSC certification require on-site inspections of production plants by inspection bodies in addition to sample inspections.
For example, for PSE specified electrical appliances and materials, inspection equipment such as insulation resistance meters, insulation strength testers, voltmeters, power systems, and ammeter is actually checked in the factory according to the type classification that can be divided by dozens of types according to the product.
These facilities are not only necessary, but they must be products that comply with PSE standards, so it is essential to have a reasonable knowledge of which products are actually needed. In addition, equipment is not allowed for old objects and must be calibrated regularly.
If you've never done PSE before, it's probably hard to get it together on your own. In addition, it is even more difficult because the Chinese factory does not know Japanese technical standards. On the other hand, if you know exactly what equipment you need, you can also purchase the equipment itself on Amazon.
In addition, japanese inspectors may be dispatched from Japanese inspection agencies to the factory, and in that case, if the Chinese factory cannot respond in Japanese, it will fail only by itself. Apart from language issues, factory staff must be familiar with PSE or PSC technical standards, and it is also essential to be able to answer questions from inspectors.
To be clear, it is almost impossible for businesses that have never experienced it to clear this problem, so please contact us although it is a front miso. We will clear all the problems.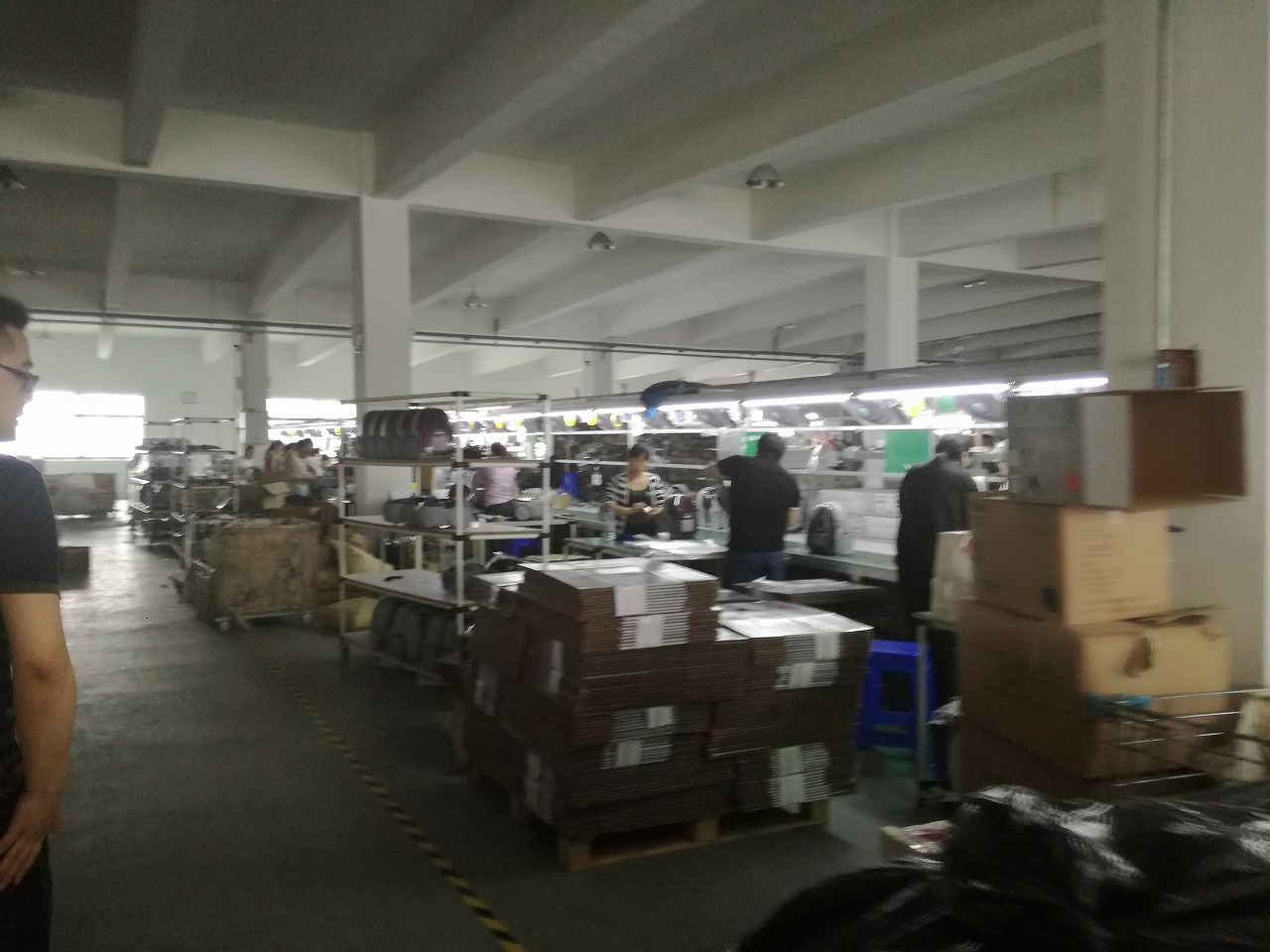 Scenery of vacuum cleaner factory in Suzhou, China. If the atmosphere of such a site is not understood, the negotiation with the factory does not advance, too.
I'm throwing certification to the factory.
I have written in the tone of argument that the Japanese side that orders should also understand the technology, but even if you say such a thing, the work of the company can extend to sales promotion and actual sales work in general after completing certification. Because it is serious only by it, the desire to throw all detailed authorization work to the factory is understood well.
If you want to become familiar with the authentication itself, you can dig as deep as you want, but it may not be your original job. Some people are very familiar with it to save money, but it is also true that doing so will affect their main business.
It seems to turn over all the stories I've written so far, but you can throw the certification to the factory. Because the authorization cost is paid for that amount, and a moderate amount of goods are purchased from the factory.
However, keep in mind that the process that has been written so far occurs in authentication. If you understand that, you will also understand that certification will not progress if you throw it all at the factory.
Then, please use the agency company like ours. Basically, we will follow the above process. As long as you understand the rough process, you will be safe as a client.
I think that the best way to do it is to establish a system that can throw authentication and throw it out.
In order to do so, it is important to understand what authentication you do in the first place. If you do, please contact us.
Inquiries about certification in Japan
Please contact by E-mail