【Attention】 If you do not know the inspection procedure of PSE, PSC, radio law law, it is enough to grasp this for the time being (1) PSE edition
Hello. It is a hori of the manager.
We have introduced an introduction to the system and the meaning of obtaining certification for PSE, PSC, radio law skills, etc., but this inspection procedure is especially a selling part of our company.
This is because there are many pages that explain the inspection procedure while quoting pages of the Ministry of Economy, Trade and Industry, etc., but after all, it is subjective, but I get the impression that I will not have actually inspected PSE, PSC, radio lawability, etc.
If you have actually inspected it, the expression you use while quoting the page is a practical word, and in a word, you can immediately see if there is reality.
Our purpose is not to explain the system, but how we can pass the certification.
Therefore, we would like readers who are interested in authentication to grasp only the minimum points and leave the details behind.
This time, I will explain the flow of PSE authentication, and I will write about the flow of PSC authentication and radio law authentication from next time.
Pse certification flow

Citation: Ministry of Economy, Trade and Industry website "Electrical Appliance and Material Safety Law _ Flow of Notification and Procedures"
Start with the PSE (Electrical Appliance and Material Safety Act) inspection procedure. It cites the flow of the Ministry of Economy, Trade and Industry.
Business act
The explanation of whether electrical appliances and materials are PSE is omitted.
If it is subject to PSE, the chart is divided on whether to sell the product (business act), but if a series of inspections etc. have already been completed by someone's hand, it is also possible to sell it as it is.
Sales at Mercari may be applicable.
However, such patterns are almost impossible, so if you are going to conduct business basically, you will proceed with the next "business notification".
Business notification
On the Ministry of Economy, Trade and Industry page, "If you start a new business, you need to make a "business notification" to the Bureau of Economy, Trade and Industry within 30 days from the start, etc., but I do not think that anyone who sees this page will start the "manufacturing" business, so I will talk on the premise of the "import" business.
Pse inspection takes at least 45 days, so it will be in time to actually submit a notification even after all inspections are completed, and I think that is more reasonable.
Sample books are attached to the website of the competent Bureau of Economy, Trade and Industry (an organization that accepts documents to be applied for to the Ministry of Economy, Trade and Industry). If necessary, it is also possible to ask an expert such as an administrative scrivener to create it.
Confirmation of standard compliance
To put it plainly, it is a sample inspection performed for an inspection agency.
The flow is very easy to write, but the inspection cost varies greatly depending on the choice of which inspection institution to use at this time.
For example, sending samples to a Japanese inspection agency even though the production area is China is time-consuming and labor-intensive. In addition, while Chinese inspection agencies are basically cheaper, I think it is simply a waste not to be able to make that choice just because they do not know how to use overseas.
On the other hand, there is also the most difficult certification that is only recognized by Japanese inspection institutions, so it is still a must use of a Japanese inspection organization.
The important thing is to choose the best inspection organization that suits your plan, and we also accept such consultations, so please feel free to contact us.
In return, it is necessary to submit a sample and technical materials such as specifications and product schematics to the inspection agency.
In addition, in the case of overseas production, if the sample to be submitted is not Japanese specification, it is out in one shot.
Be careful not to submit default samples without your knowledge.
If you look at only the flow, such a thing is not written, so it is necessary to negotiate documents with the factory that responds to the inspection after understanding that thing in advance.
What kind of documents do you need in the first place? Can we tell you it ourselves? If you are worried, please feel free to contact us.
The required documents vary from product to product, but our professional staff will explain to the factory in Chinese and English, so you can leave the work with confidence.
Specified electrical appliances and materials_Conformity inspection
As I have mentioned before, PSE is classified as specific electrical appliances (commonly known as diamond-shaped PSE) and non-specified electrical appliances (commonly known as round PSE).
Conformity inspection means a production plant inspection.
In other words, specific electrical appliances and materials require production plant inspection, and production plant inspections are not required except for specified electrical appliances, and once the sample inspection is completed, it will proceed to the next manufacturing and import step as it is.
It is a little difficult to read from this flow, but we know from the initial stage whether to authenticate with either specific electrical appliances or specific electrical appliances, and we must know
For example, if the product considering certification is specified electrical appliances, if you ask a Japanese inspection agency, you will send a Japanese inspector to a production plant in China.
Even if it is near Japan and China, a reasonable travel cost will be incurred, and business trip expenses, local stay expenses, etc. can be incurred.
In addition, since there are also schedule adjustments for inspectors in Japan, even if the standard conformity confirmation (sample inspection) is completed, there is a possibility that the factory inspection itself will be a little ahead.
On the other hand, since we can introduce inspection institutions near the Chinese factory (it depends on the location, it is a consultation) Inspectors can also inspect at the normal train rent level on a day trip.
Authentication incurs various costs, but when considering the cost-effectiveness of being able to keep what should be suppressed, it seems that it is worth thinking which one should choose.
In addition, whether the factory inspection is a Factory in Japan or a Factory in China, the inspection organization examines the production equipment of the factory when producing PSE products.
If the factory is doing PSE inspection many times, there will be no problem, but if you get PSE inspection for the first time, it is undeniable that there is a severe part.
Even though the sample inspection passed with great care, it is possible that it fails the factory inspection.
We also provide pre-inspection guidance services for both our Japanese and Chinese plants. We also provide on-site guidance at the factory as necessary, and it is a service that has been very well received, especially from customers who are PSE certified for the first time. Please feel free to contact us.
Manufacturing and import
After all certification tests have been completed, I hope that you will be able to manufacture and import them on a clear basis.
In addition, I think that a PSE certificate has been issued by this time, so the "business notification" described above will be sufficiently in time even if you do it at this timing.
Voluntary inspection
For details, I wrote earlier, "PSE, PSC, measurement method, radio wave law suitability, etc. are not finished once certification is completed, and even after certification, voluntary inspections are required, and there are trial tests by related ministries and agencies." Please refer to "What is PSE and PSC voluntary inspection" in the article .
Basically, I think that it is okay to conduct inspection reports at the factory, but we also offer confirmation whether it can be presented to the Ministry of Economy, Trade and Industry and our own format.
Display
In fact, this is the part where there are the most inquiries from customers.
We really receive many consultations on the content that "Even though we certified it with our own money, I am worried that the Chinese factory will divert the certified product to other companies or sell it in-house without permission".
Your feelings are exactly that.
This can also be prevented with some know-how, but the main point is to control all authentication in-house We believe that this is the
For example, although the certification cost can be issued, but the detailed technical part is not well understood, if the certification practice is left to the Chinese factory, as before, there may be a high possibility that the factory will do something selfish after certification.
We are designing processes so that certification can be proceeded by the requester, and we can consult about the control of certified products, so please feel free to contact us.
Sales
I think that you can sell this freely by the company, but if necessary, it is also possible to consult with us about sales channel development.
How much does it cost to authenticate?
It's often questioned, and I'm not meanly teaching, but it's really different from product to product, so I can't answer it easily.
As a question, "How much is PSE certification?", but it is different from the specified electrical appliances and other specific electrical appliances described above, and there is a big difference in the presence or absence of factory inspections by inspection institutions and factory locations, so I would appreciate that there is such information when you ask questions first.
Our strengths: Estimates are possible without technical documentation
Even so, I think that some market views are also necessary after all.
Depending on the thing, excluding our fee of 200,000 yen (excluding tax), about 300,000 yen to 1.5 million yen will be the general market price. It varies greatly depending on the thing, so I think that you can contact us first.
In addition, if you use an inspection institution in China (overseas), the inspection cost itself will be tax-exempt.
Our strengths include many years of experience and experience, so we may be able to estimate roughly even without technical documentation. Japanese inspection agencies are often said to need technical materials for estimates, and it may take time just to prepare the materials.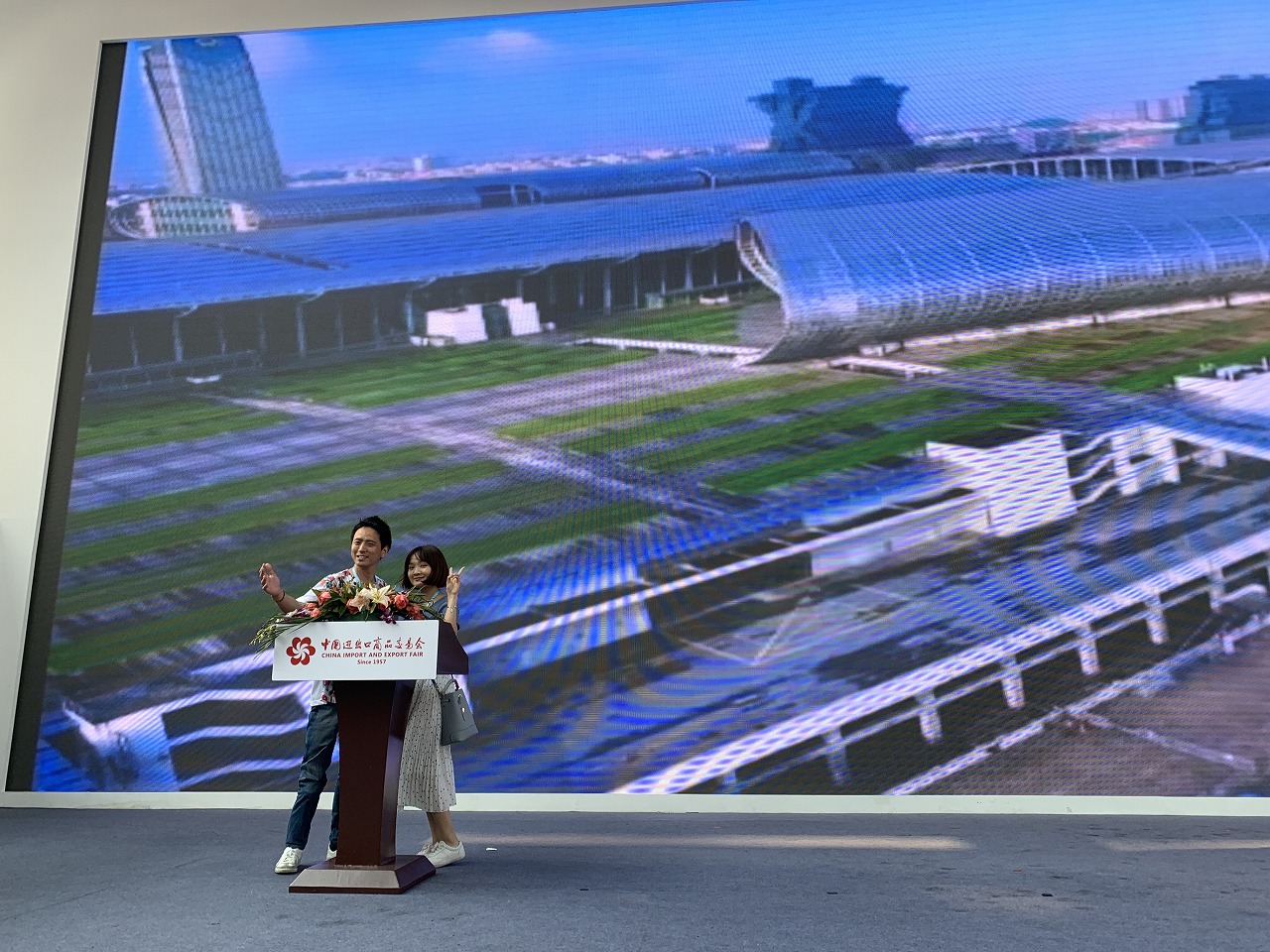 Playing with an interpreter woman in the big vision of the Canton Fair
Adapter factories often have certified specific electrical appliances in-house
As an added bonus, ac adapters (commonly known as DC power supplies) are often certified for specific electrical appliances at the factory.
We can also search for ac adapters that match your products and arrange the necessary calibration certificates and sub-books.
Customers want to know how to pass the system, not explain the system
Again, what customers want to know is not an explanation of the PSE system, but how can they pass the PSE.
From the perspective of experts on this page, there may be objections and objections to pick up the corners of the heavy box, but at least we write based on the experience of our company and our customers as "minimum information necessary for passing certification".
Announcements
We are currently recruiting agents for our certification agency business.
Why don't you start a side business with a certification agency model that makes a profit of 100,000 yen or more with a single order?
For details, please access the information page from the banner below.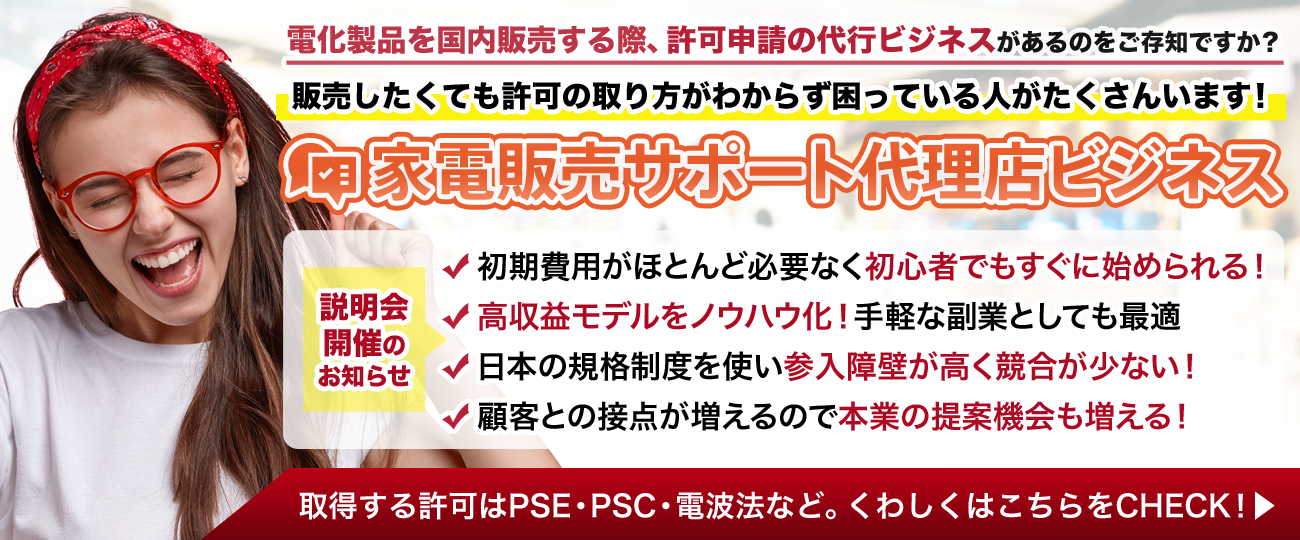 認証・中国ビジネスに関するお問い合わせは
INSIGHT WORKSホームページから
メールでのお問い合わせ
認証ビジネスについて学びたいなら最新情報をキャッチ
無料メルマガ「認証の原理原則」に登録!
数々の認証を経験・成功させてきた堀雄太が認証ビジネスに軸にして、中国・日本における新規認証ビジネスの構築の仕方や、中国ビジネスなどを紹介しています。
初めて認証に取り組みたい方へのお役立ち情報や、自身で依頼主様の認証サポートを行いたい方に向けてセミナーや勉強会なども予定しておりそうした情報をいち早く告知させていただきます。
2020年8月21日(金)より毎週1回配信!