What is necessary for displaying basic knowledge and skill mark for those who have trouble with radio law (technical suitability) certification? Wifi, Bluetooth, 4G are essential radio law!
What is necessary to display basic knowledge and skill marks related to the Radio Law (technical suitability)? Those using wifi, Bluetooth, and 4G use radio law is mandatory
Hello. It is a hori of the manager.
In the previous article, I explained the minimum points that need to be known as a business operator about pse (Electrical Appliance and Material Safety Act). This time, I will tell you the points you need to know about the radio law (technical suitability).
One of our strengths is that we handle all-genre certification agency such as PSE, PSC, radio law, etc.
Some of them have two certifications required for a single product, and we can respond to such products with a single request.
Now, about the Radio Law. Recently, smart home appliances have become a hot topic as represented by Bluetooth earphones connected to smartphones and Bluetooth speakers.
In addition, there are more and more products equipped with Wi-Fi functions to perform services using the cloud. Many of these products require radio law certification.
What is the Radio Law in the first place?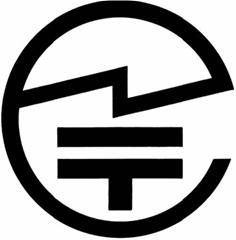 This law was enacted in 1946 with the aim of promoting public welfare by ensuring the fair and efficient use of radio waves. Its predecessor was the Radiograph Act of 1912. The Radio Law is currently under the jurisdiction of the Ministry of Internal Affairs and Communications.
If you fire radio waves without obtaining a license (using equipment that has not acquired the Radio Law), it is said that illegal radio stations have been opened and operated, and it is a violation of the Radio Law. Imprisonment for not more than one year, a fine of not more than 1 million yen, or any obstruction to a highly public radio station, will result in imprisonment for not more than 5 years or a fine of not more than 2.5 million yen.
The Radio Law is a law in which users are subject to penalties, and business operators should be careful!
Laws punishing users, not sellers: Radio Law
There are many people who have been misunderstood, but in fact, the Radio Law is more of a law for the protection of radio waves in the country than in terms of user protection laws such as PSE and PSC.
In addition, no matter what page about the Radio Law, it is said that there are the above penalties when used, but it is not written that the business that sold will never be punished.
It is a strange law, but I remember well that I had said that "The Radio Law is a Monkey Law" when I inquired about it by telephone to the person in charge of the ministry of internal affairs and communications related organization before.
Once in a while, there is news that the police have caught a store that handled wireless transceivers without permission and kept in touch with each other, but this law is the basis. To the last, the person (user) who was using it, not the seller, will be a penalty.
To put it bluntly, the handling business operator will not be legally punished for handling radio law products without permission.
However, if you do not do it properly, there may be social credibility problems, so basically it is necessary to firmly authenticate.
In addition, illegal wireless products are often suspended from sales at sales malls.
The country's radio laws and regulations are intensifying.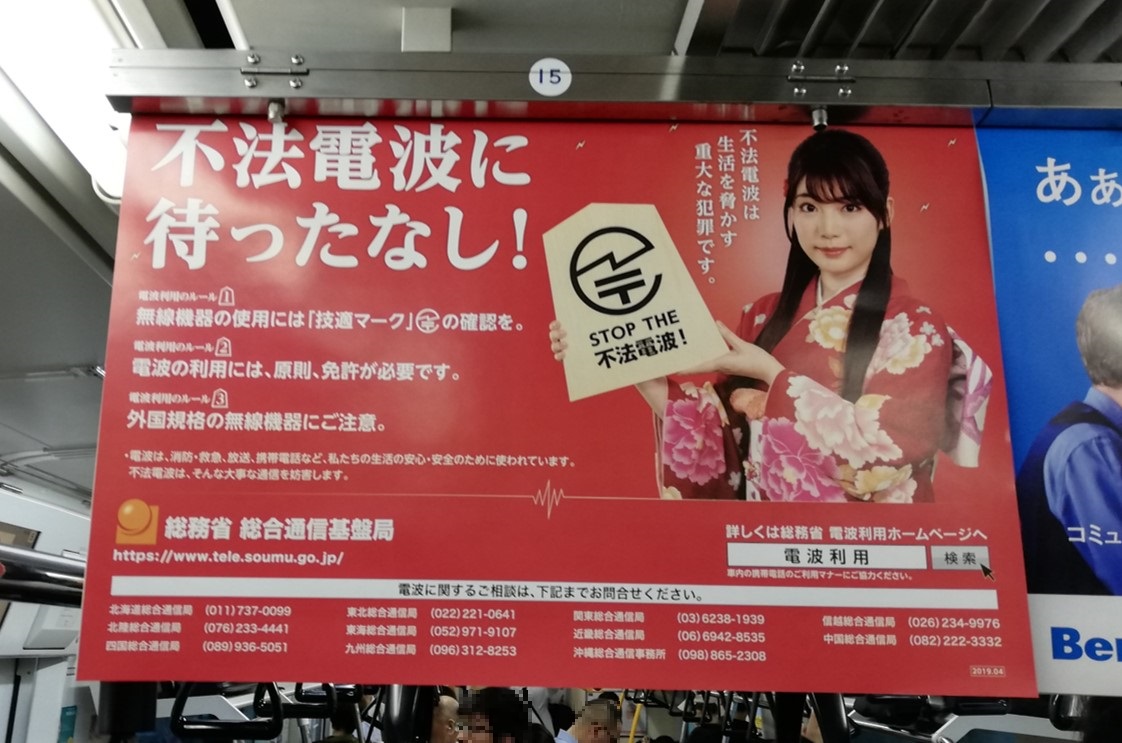 This advertisement was shot on the train around June 2019, but it was also developed in a big way in the station advertisement.
There is an Olympics this year, and there is a purpose to appeal that there is no illegal radio wave when people gather from all over the world.
It is unavoidable to say too many times because it is off the main subject, but I think that it is better to revise the law and crack down on distributors of illegal wireless products, but is there any barrier?
Products subject to the Radio Act, asymmetric products
Almost everything that emits radios in the world, wi-fi ○○, wireless ○○, cordless ○○, smart ○○, Bluetooth○○ are considered to be subject to the Radio Law.
For instance
Wireless presenter (mixed with PSC laser)
Wireless microphone
Wireless earphones (mixed with PSE battery)
Wireless mouse
Walkie-talkies
Smart camera
Bike tandem (income)
Wireless mouse
Wireless keyboard
Mobile phone
Wireless printer
Wi-Fi projector
Selfie stick (remote control)
Wireless stereo speakers
And so on
One thing to note is that just because it is cordless wireless, it is not always a radio law, but the radio that emits radio waves is an object of the Radio Act.
Rechargeable electrical appliances have nothing to do with the Radio Act, and remote controls such as TVs and air conditioners are infrared communications, so this is not related to the Radio Law.
As a trial, pressing the switch while covering the remote control with your hand will not work.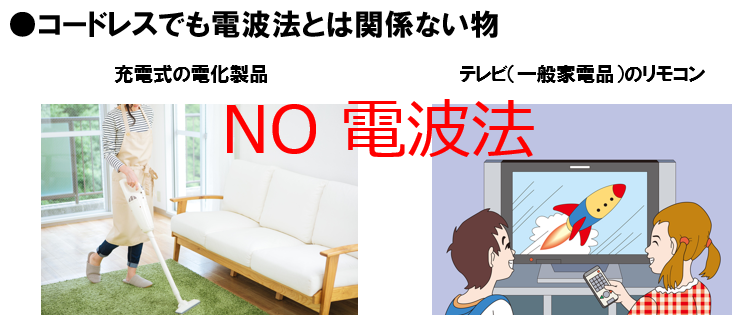 In addition, wireless devices equipped with 4G such as smartphones, recently do-do translators, wi-fi routers, etc. are very expensive for authentication.
There are quite a few inquiries, but (of course we can also do 4G certification) Most customers give up just by listening to the authentication cost.
However, it is still possible to authenticate relatively cheaply using a Chinese inspection organization, so if you are interested, please contact us.
Frequently Asked Questions about the Radio Law
Q. Does it fall under the "Special System for Experiments using Unfit Equipment"?
A. It is a system aimed at experimentation to the last. This is to ensure that newly developed products do not violate the Radio Law when conducting experiments on their own. It is better to think that those that are already sold overseas are basically not eligible.
Q.Does it fall under the provisions of "Weak Radio Station"?
A. "Field strength at a distance of 3 meters from the wireless equipment (strength of radio waves)" is within the specified range, most of the radio law products used such as retail are not weak, and especially those using Bluetooth do not fall under the weak. In addition, since there is an inspection to prove the weak radio, after all, some kind of inspection cost will be incurred.
There is also a way to use radio law passing modules for products
It is also a method that can not be easily judged without engineers and others in the team, but if you purchase a module that has passed the radio law inspection and incorporate it into the product, you may not need radio law certification of the product itself. We also consult with you about these points.
Beware of malicious illegal radio wave products! There is a Chinese business operator who falsification of radio law numbers etc.
As I wrote on the PSE page, I actually checked it with my own eyes, so I dare to say in my real name this time, there are very many wireless products sold by Chinese companies at Internet malls such as Amazon that do not have radio law indications or radio law indications are incorrect.
In other words, it can be inferred that it is an illegal product that has not been properly inspected by radio law. Of course, there are cases where Japanese companies also handle illegal goods. In any case, you should be careful about wireless products that are too cheap.
As a problem of the radio law illegal, as I wrote earlier, users will be punished.
In fact, users will not be arrested by the police if they are using an illegal radio product sold in retail, but it is morally problematic to sell illegal goods to an unspecified number of people.
Of course, you can't do a big business, so it means that your business won't grow up after all.
In addition, the Radio Law displays the license number on the product, but if you examine what was accompanied by the radio law number in a Chinese business operator, the number does not exist, or there are quite a few cases that are quite malicious, such as the use of completely different products.
Since the Ministry of Internal Affairs and Communications has enacted a law by ourselves, I would like you to promptly crack down on such illegality.
For your reference, I will introduce the radio law number search page of the Ministry of Internal Affairs and Communications.
If you enter the radio law number as shown in the figure on the left and hit it, the name of the business operator and the type are displayed as shown in the figure on the right.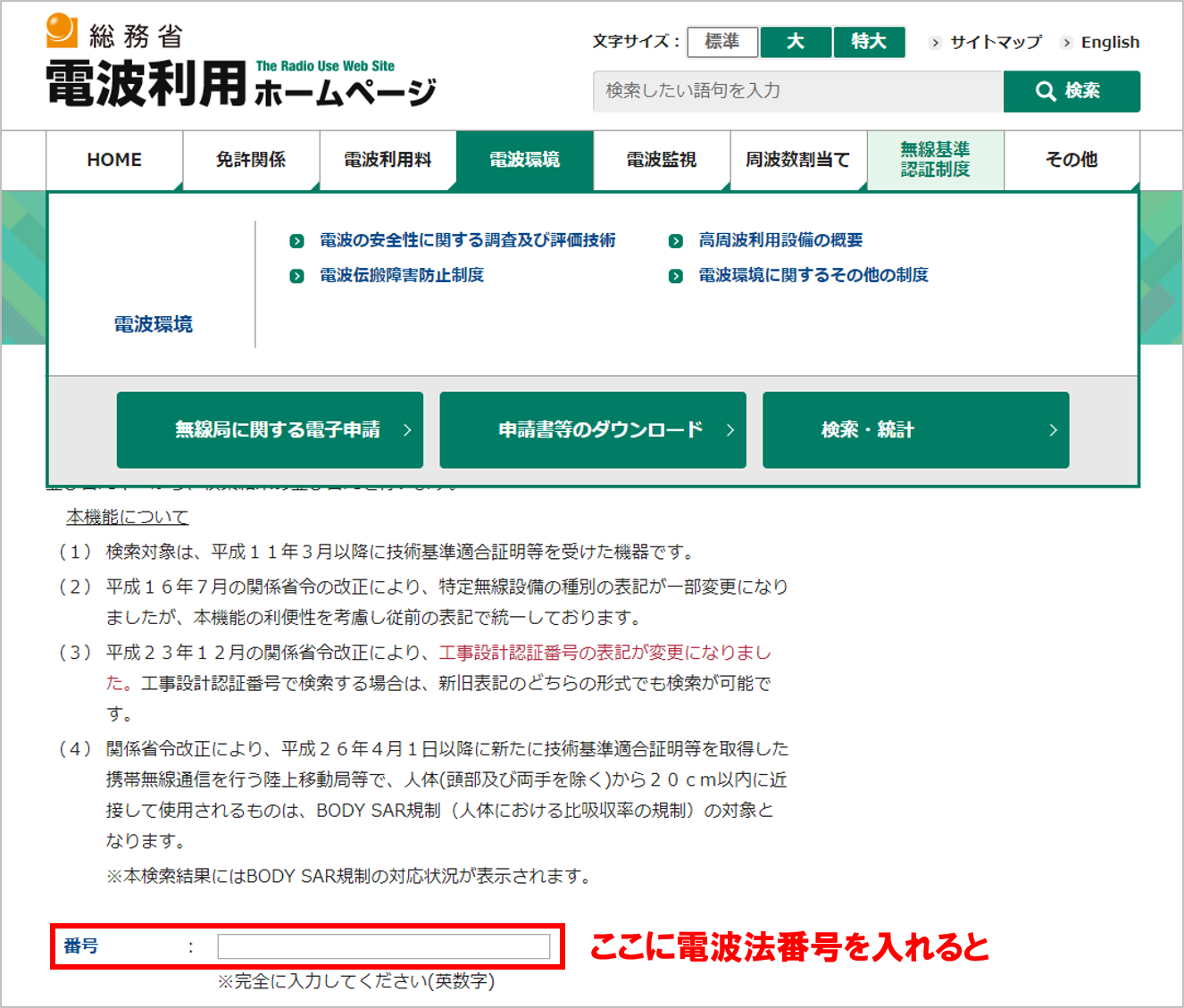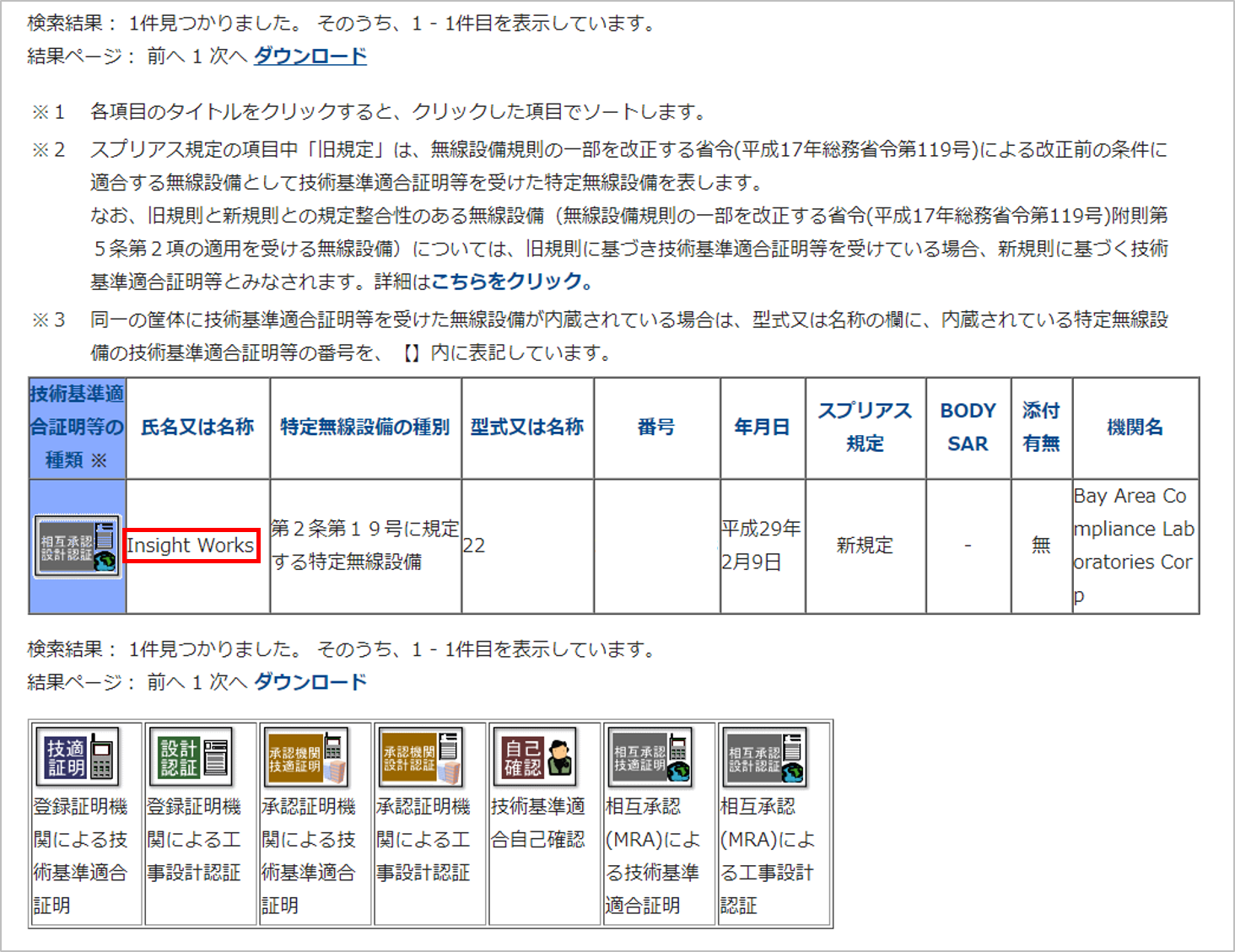 Reference: Search for equipment that has received technical standard conformity certification, etc.
I will write about the procedure of the radio law from the next time.
Announcements
We are currently recruiting agents for our certification agency business.
Why don't you start a side business with a certification agency model that makes a profit of 100,000 yen or more with a single order?
For details, please access the information page from the banner below.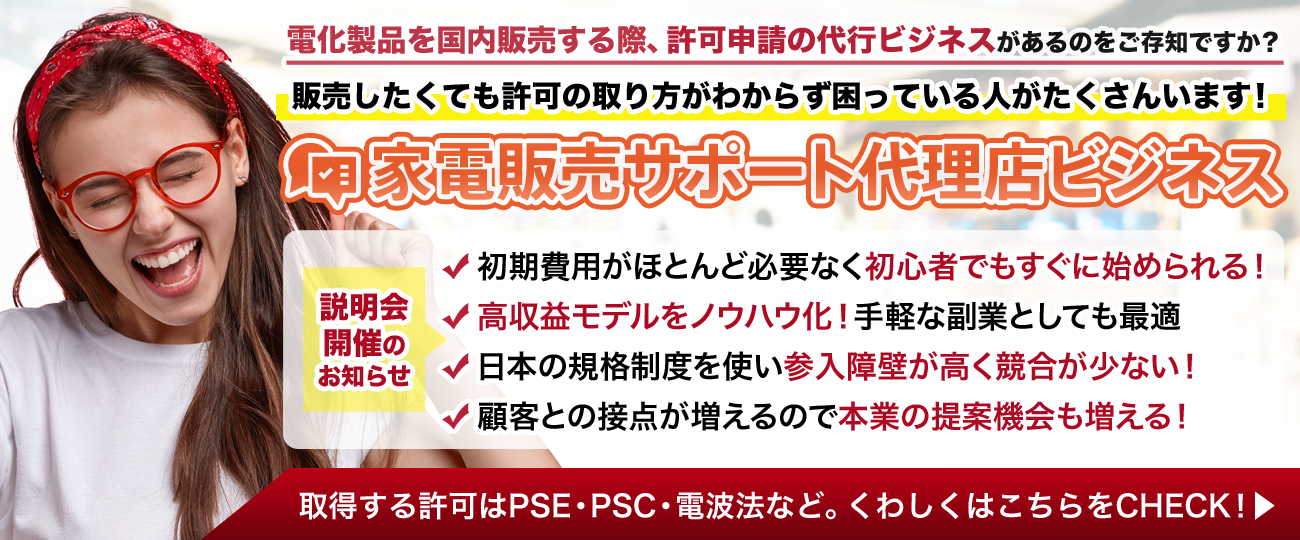 認証・中国ビジネスに関するお問い合わせは
INSIGHT WORKSホームページから
メールでのお問い合わせ
認証ビジネスについて学びたいなら最新情報をキャッチ
無料メルマガ「認証の原理原則」に登録!
数々の認証を経験・成功させてきた堀雄太が認証ビジネスに軸にして、中国・日本における新規認証ビジネスの構築の仕方や、中国ビジネスなどを紹介しています。
初めて認証に取り組みたい方へのお役立ち情報や、自身で依頼主様の認証サポートを行いたい方に向けてセミナーや勉強会なども予定しておりそうした情報をいち早く告知させていただきます。
2020年8月21日(金)より毎週1回配信!