【Certification example】Support radio law certification of trailer lights installed in agricultural trailers
Our customers, Agridirect Co., Ltd., are agricultural equipment dealers who import and sell agricultural machinery, tractor tires, machines and parts in Tokachi, Hokkaido.
Through the import and sale of agricultural products such as tractors and tires, we are committed to the development of Agriculture in Japan, and we are working day and night to provide better products so as to serve as a bridge between "global agriculture" and "Japanese agriculture".
In this product, at first, it was trying to perform Japanese radio law certification (technical suitability) via Europe of the producer, but due to various circumstances, it was forced to give up, and this time he considered certification against a production plant in China, but there was no know-how on Chinese business.
In such a case, we learned about the existence of our company with the strengths of China and contacted us.
To be honest, I thought it was a normal radio law certification project, so I thought that it would proceed without too much problems, but it was a case where there were really various things.
This time, we asked Takumi Oshima of AgriDirect Co., Ltd., about the background of our request, the episodes under certification, and the impressions of working on radio law certification.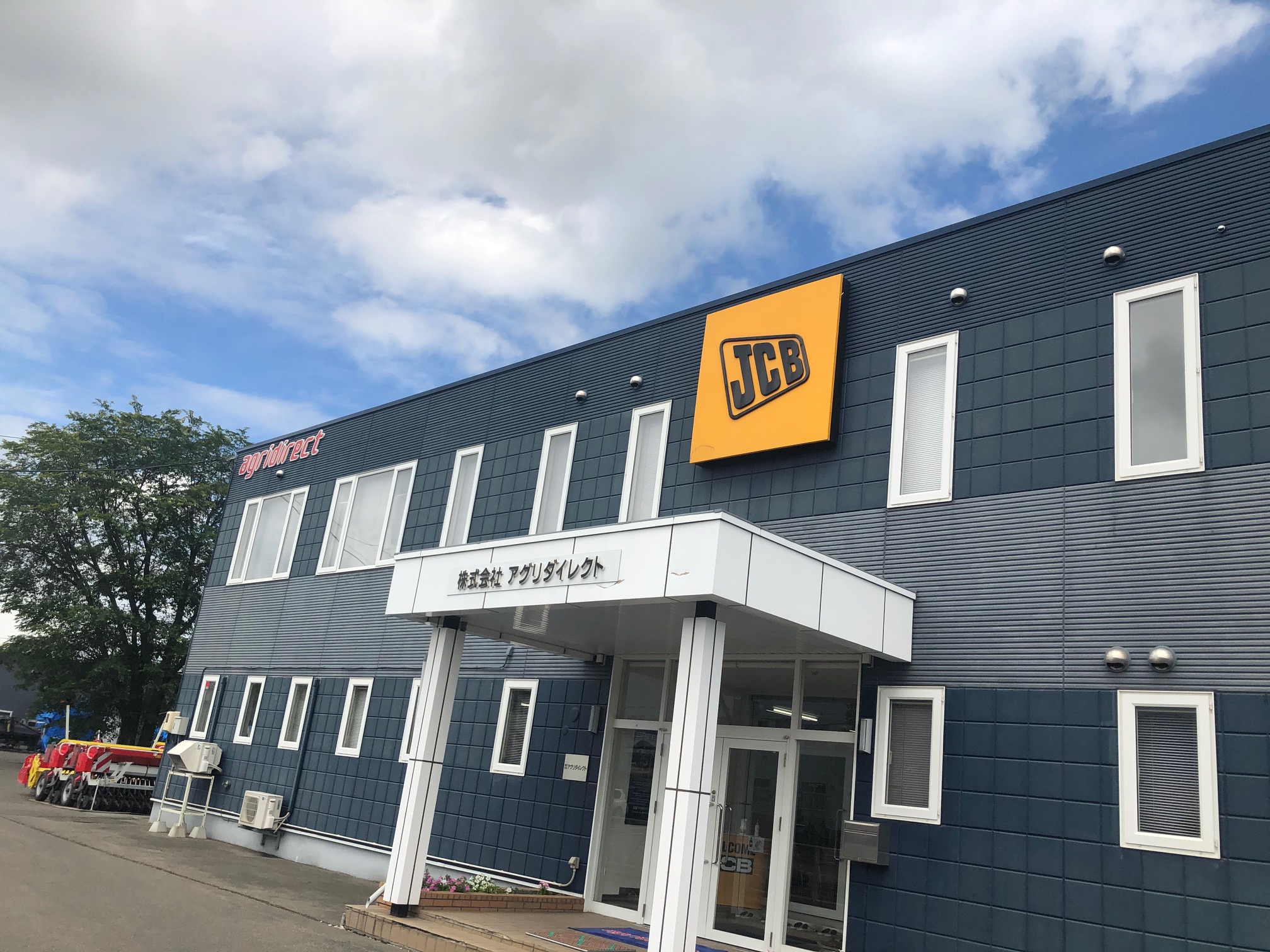 Agridirect's head office
Requester
AgriDirect Co., Ltd.
Mr. Takumi Oshima, JCB Sales Department
Interview: INSIGHT WORKS Co., Ltd. Hori
Official website: http://www.agridirect.jp/
How I asked INSIGHT WOKRS for certification
What is a wireless trailer light?
Hori: First of all, please explain the trailer light that has been certified by the Radio Law.
Mr. Oshima (hereinafter Oshima): Yes. If you are not involved in agriculture, it may be difficult to come with a pin, but in a word, it is a backlight installed wirelessly on an agricultural trailer.
Hori: This is the first time I've learned about this request. Were there any amendments to the law in using this product?
Oshima: In April 2019, due to deregulation of the country, it was allowed to run on public roads with a work machine attached to an agricultural tractor. In addition, from December of the same year, agricultural trailers were also subject to deregulation and public road driving was allowed.
Oshima: However, in order to run on public roads, it is necessary to meet security standards, and reflectors and lights must be installed. Conventional light machines are mostly wired, and it took time and cost, such as "calling an electronics shop for installation", "handling the wiring so as not to be damaged by external factors", "installing one by one".
Oshima: In such a way, wireless trailer lights can be used from the day they are obtained without any hassle of construction. In addition, because there is no wiring, it does not break during use and can not be used, and since it is detached with a magnet, it can be easily replaced even if the machine changes, and it is a product with very excellent cost performance.
Oshima: In recent years, accidents such as tractors have increased, and we decided to introduce this product because we thought that it would be very useful for customers who are concerned about safety.
Hori: It's a very groundbreaking product. Were you able to find it overseas?
Oshima: I found a British manufacturer exhibiting at the German agricultural machinery exhibition "Agritechnica" in front of corona. I thought , "This is it!", held a business talk, obtained a sample, and, now, if you think that it is finally sold in Japan, I actually knew that radio law certification is necessary to sell in Japan.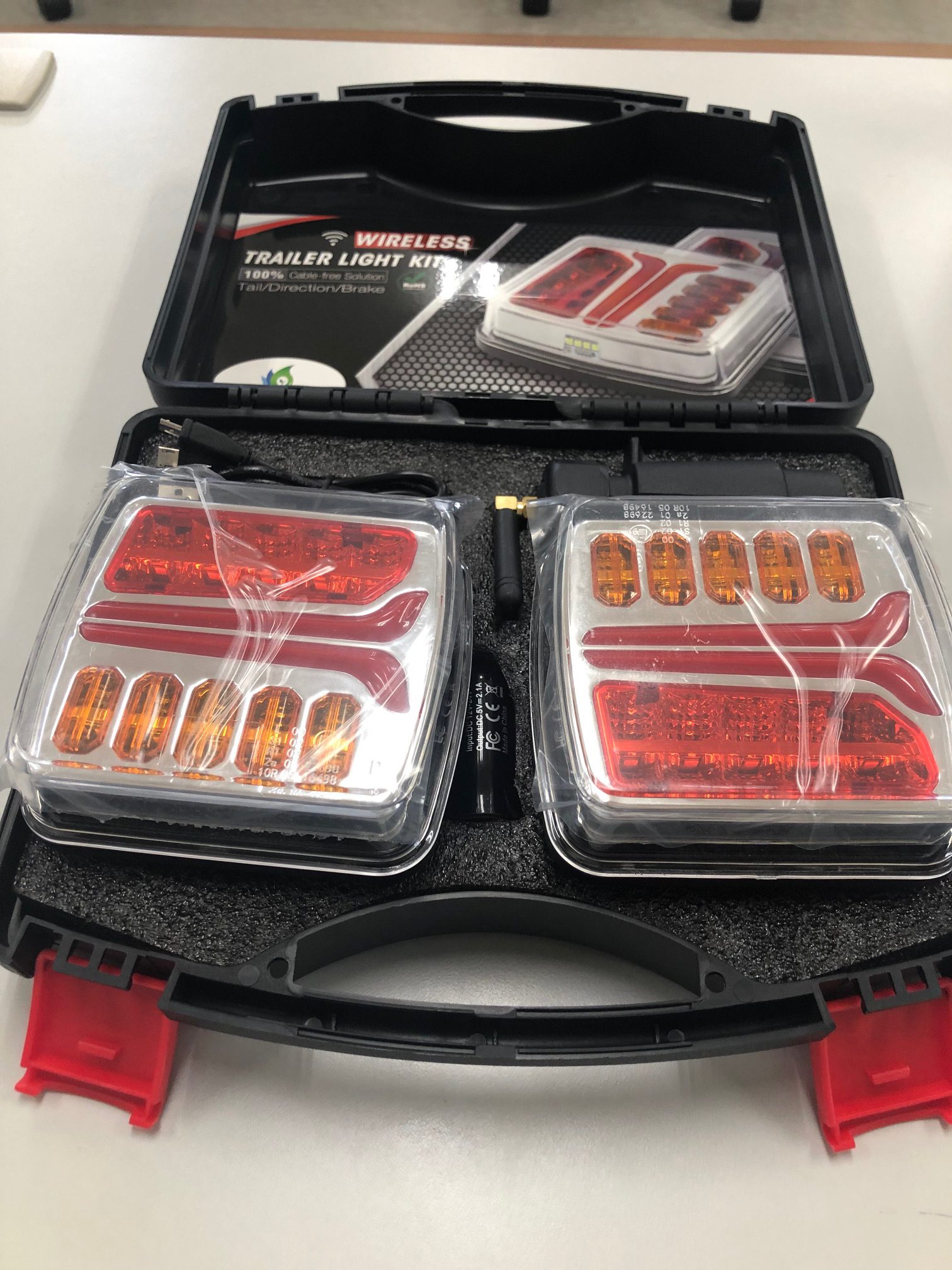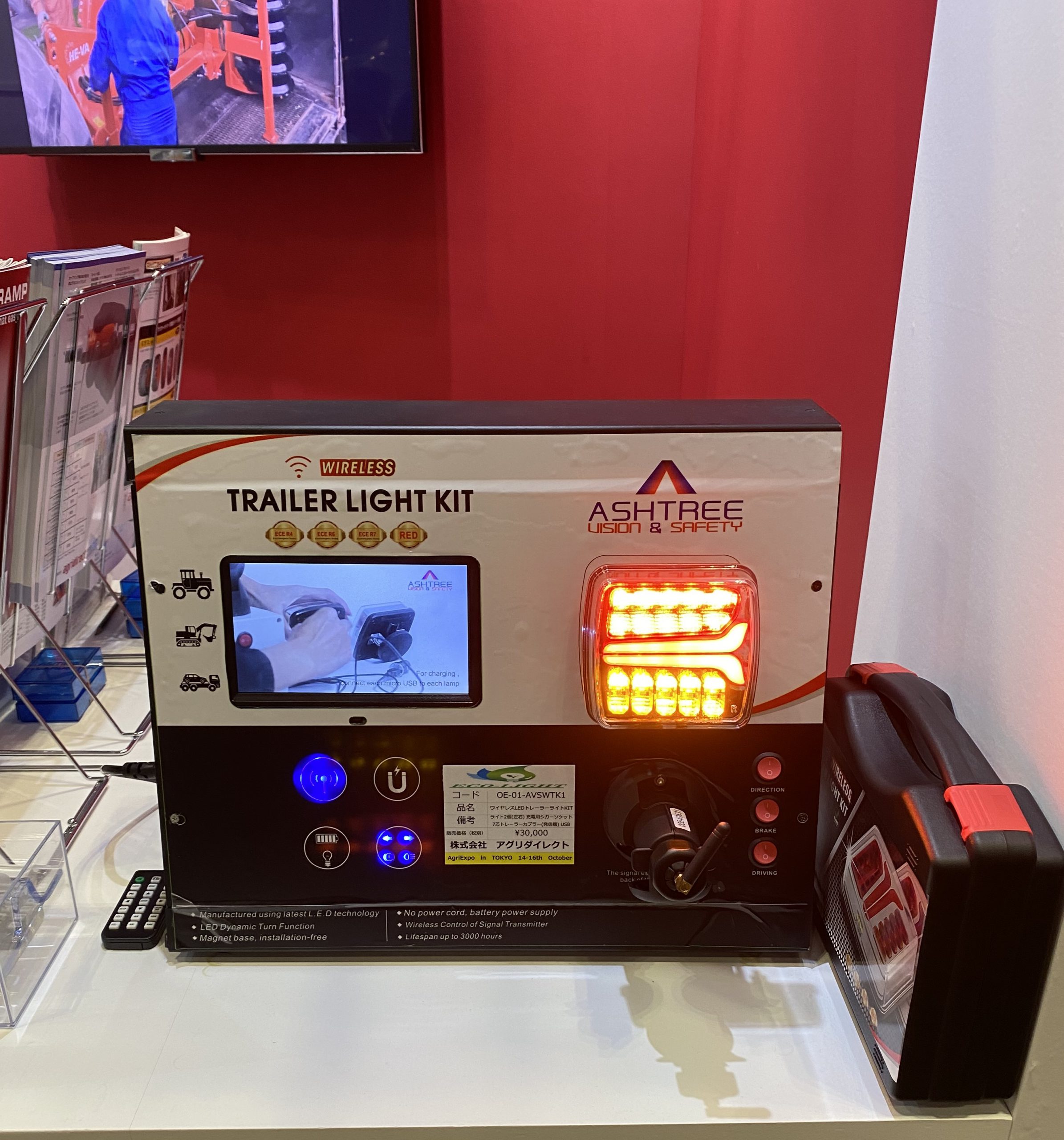 Trailer Light
Radio law authentication could not be performed without INSIGHT WORKS
Hori: We received a contact from Mr. A, who is a former staff member of your company and runs a consulting company. He was very fluent in English.
Oshima: Mr. A occasionally provides support for our overseas business. If you tell us how you asked your company, it will be longer, so I will tell you.
Oshima: The manufacturer of the products is in the UK, but the production plant is in China. First of all, we asked a British manufacturer to obtain Japanese radio law through a certification agency that I had been dating at the time.
Oshima: However, british manufacturers do not understand Japanese radio law at all, and when they are involved in a Chinese factory and contact the Chinese factory, this time, the software and technical materials used in the sample can not be provided without the approval of the head office.
Oshima: I thought that there would be no doubts as it was, so I tried changing manufacturers and replacing agency companies, but in the end I repeated the same results. So, an acquaintance of Mr. A called out to INSIGHT WORKS that I found on the Internet.
Hori: What I felt when Mr. A contacted me was that "the certification agency has not done anything (I think)." The definition of the work of the agency company varies depending on the company, but at least if it is our company, the minimum negotiation is done with the factory (manufacturer).
Hori: Of course, I'm not a wizard, so I don't mean that one day, I don't have all the materials, but I try to explain the necessary materials to the factory and encourage them to submit them. The agency that Mr. Agridirect first entrusted was the stance of confirming the things that the manufacturer had issued, and the request for materials was the responsibility of the client. I don't know what was clear.
Oshima: I don't really know what it is now. However, I decided to ask INSIGHT WORKS to explain and act on behalf of the newly found Chinese factory about Japanese radio law certification in Chinese.
A dark cloud is filled with authentication that seemed to be going well at first
Hori: In order to cooperate with certification, we completed prepayment of product prices etc. at the factory, and certification started. At first, the factory was also willing to cooperate in providing technical materials.
Oshima: To be honest, we can finally authenticate the Radio Law! It was full of glad feelings. However, it is put one point when technical materials cannot be offered suddenly. My head is white…
Hori: I was also quite surprised to hear from Mr. A. However, even if I suddenly enter persuasion mode, I can not build a good relationship with the factory, so I decided to see the situation a little. However, I thought that it was indeed terrible even though I got the advance money by one point of "It was not possible" even if it passed until when, and held an online meeting of Skype at the factory, Mr. A, and our company, and heard the opinion of the factory side.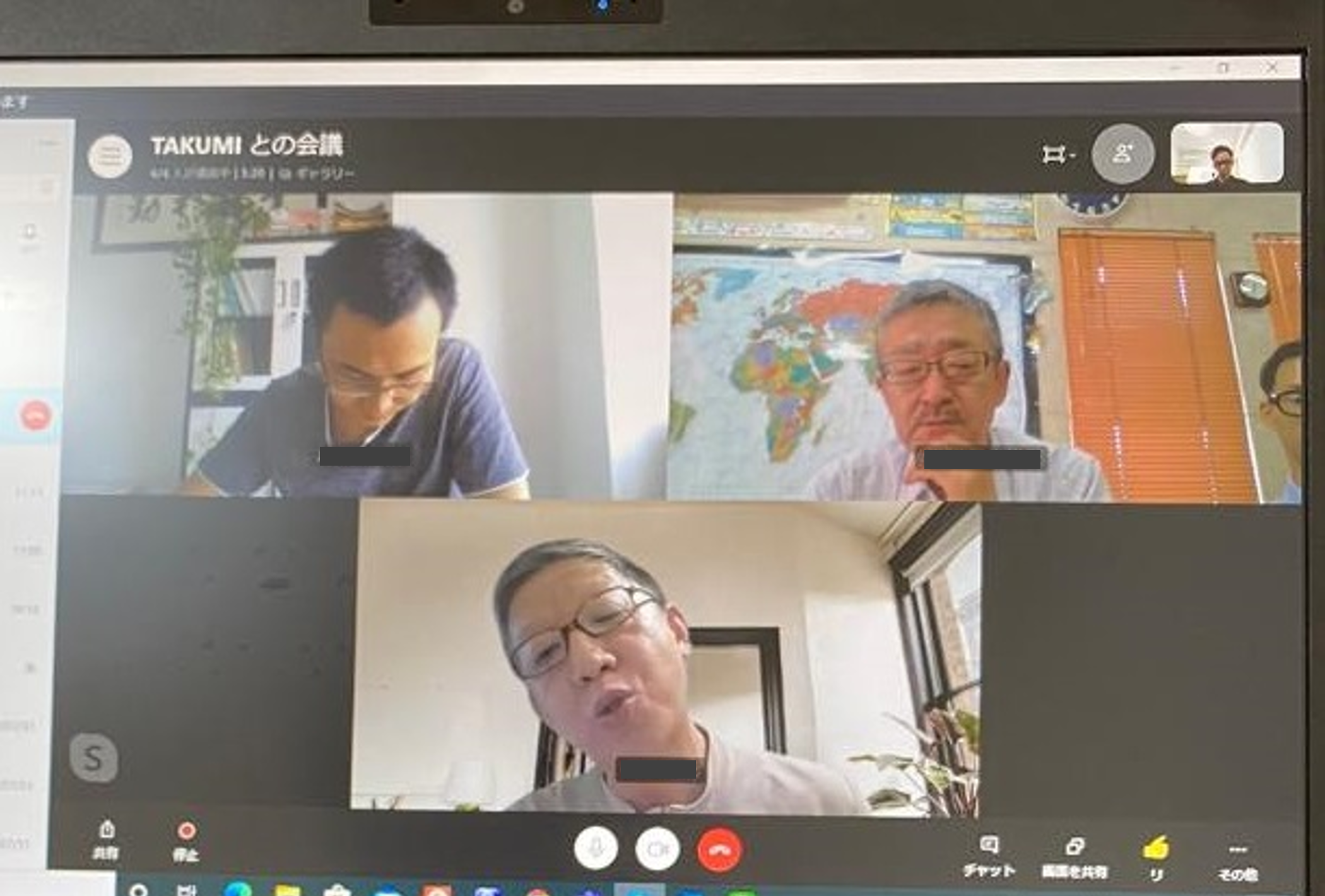 Online meeting scenery (factory sales manager in upper left, Mr. A in the upper right, representative practitioner in the center)
Hori: When I checked with the factory side again, there were many issues such as "I can't give materials" and "I can't give samples for testing (with software) because it's an assembly factory."
Hori: I felt that this was the first thing to listen to and assume Japanese radio law certification.
Oshima: I don't think you fundamentally understood it.
Hori: In light of this situation, the agency explained that if technical materials could not be released to the outside world, they would support the conclusion of an NDA with an inspection agency, and explained how to set up a sample containing software in Chinese.
Hori: One of our strengths is that we can do this. However, I will not spare anything after this because it will be long, but it is true that the factory also moved toward radio law certification, but it was exactly the history of the turtle.
Oshima: I was full of anxiety about what would happen because I couldn't wait and live without progress.
Then one day suddenly, the news of the end of authentication comes
Oshima: That was the kind of experience hori-san talked about, and that was the kind of experience I had. I was resentful of the response of the factory that could not be settled forever, but one day suddenly from the factory,
"I'm sorry I've kept you waiting so long, the authentication is over."
The e-mail came.
Hori: I was surprised by this. Every time I urged the factory, I was telling them everything we needed to do, so I thought it would be counterproductive, and told the inspectors of the inspection agency to let me know if we were making progress.
Hori: Then, the person in charge had left the company before he was aware、、、 and the final information did not come into our company. When I checked with the inspection agency in a hurry, it is said that the certification has certainly ended.
Hori: When I told Mr. A by phone, I was very happy to hear the voice of joy.
Oshima: It took a long time, but at that online meeting, we had the factory fix the trajectory, and we were able to get to this point.
What's good about INSIGHT WORKS
the ability to execute in an attempt to solve it in some way
Oshima: As I mentioned earlier, when we tried to authenticate on our only part, we were thrown a sardine from the manufacturer and the professional communication with the agency did not go well. As a result, despite the time spent, the results were zero.
Oshima: I think other agency companies have a variety of ways to work, but I felt the eagerness to make the certification successful, such as proposing an online meeting with a production plant, apart from the usual certification agency business.
Hori: Our stance is to do what we can do with certification, so I think that is a matter of course. It took time for this factory, but I think that the person himself was motivated to participate in the meeting in the first place. However, I wonder if I just didn't have the know-how to carry out sample production.
Oshima: In the future, I feel like I can have a long time with the factory.
Proposal of alternatives using the network
Oshima: In fact, we decided that there would be no damage at this factory, and Mr. Hori introduced me to another factory in China. Apart from the certification practice, there are Japanese suppliers in China, and through that person, they are on the verge of dealing with another factory.
Hori: At the very end of that time, you were informed of the end of certification.
Oshima: I'm sorry for the suppliers who have arranged various things, but it's just a haircut.
Oshima: However, insight works' network on Chinese business is well understood, so I would like to ask you when doing business related to China in the future.
A business style that is close to each company
Oshima: While proceeding with the certification, we were living in Hokkaido, but we sometimes exhibited at an exhibition at Makuhari Messe in Chiba Prefecture, and Mr. Hori and a substitute practitioner came to us at that time. Along with an explanation of how certification has been prolonged, I would like to say hello in a real way.
Hori: I'm sorry to say for myself, but we have a wide variety of customers, but due to time, most of them are online meetings and telephone calls only. So, if I have the opportunity to meet with customers, I would like to talk directly as much as possible.
Hori: Certification is expensive, and in particular, I think that it is better to explain directly about a slightly more difficult project, and as a result, we can do a job that convinces each other.
Oshima: I was grateful that you were able to actually work hard to the exhibition, and even if I talked about it over the phone, there were many areas where insight works was able to feel safe.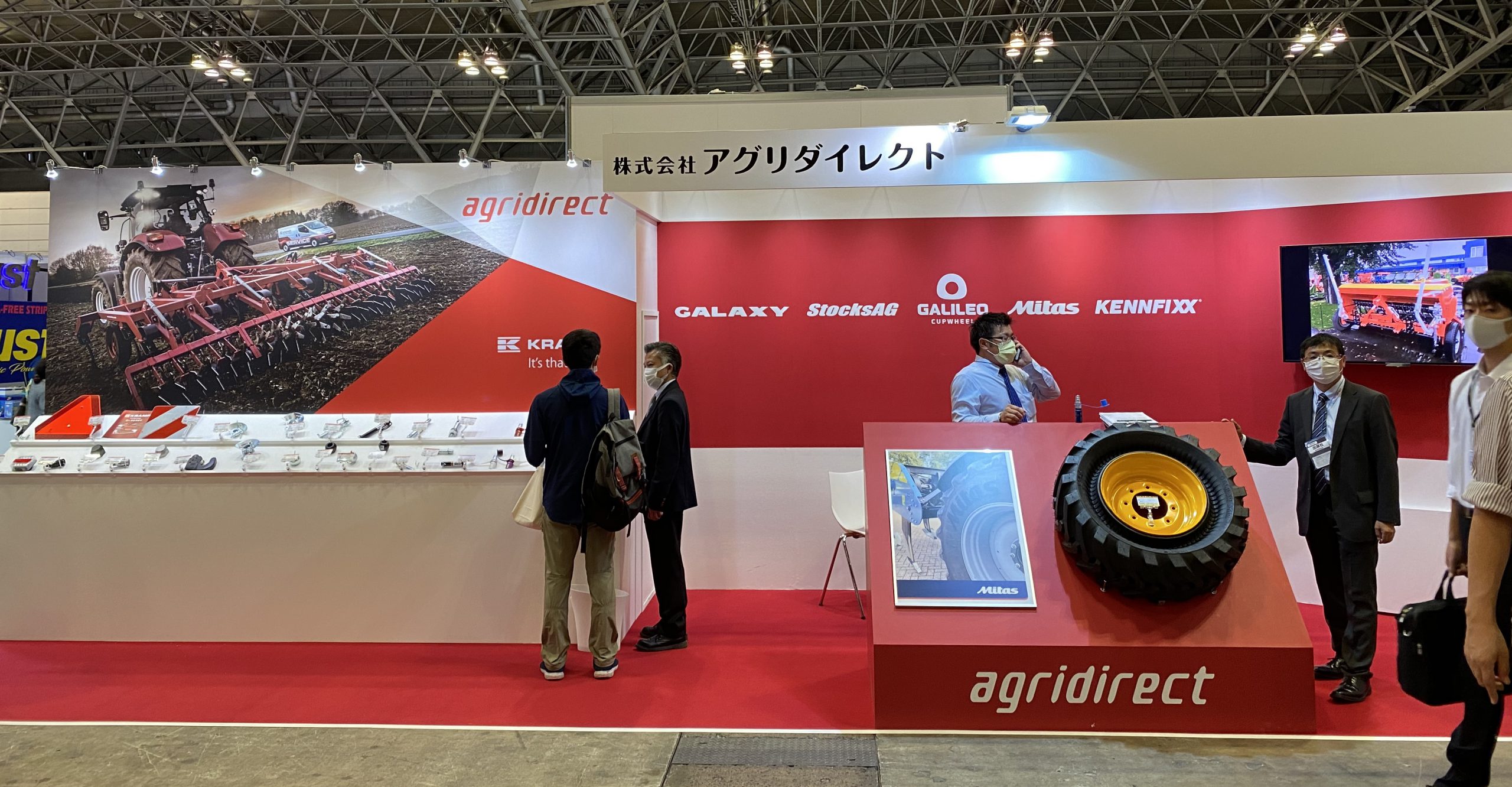 At the exhibition
After the authentication is completed
Hori: What about your business after certification?
Oshima: Because it was a highly difficult certification, we believe we can lead the way in this market. All that's left is to do it.
Hori: It is true that certification has taken a long time, but I understand that you appreciate our services that we were able to interact with interviews in this way. I would like to continue to have a future encounter.
Hori: Thank you very much for this time. We wish you more and more in your business.
Inquiries about certification in Japan
Please contact by E-mail