Novelty goods companies, company novelty personnel, do your promotional products are certified as PSE, PSC, Radio Law, etc.?
Hello. It is a hori of the manager.
Due to the coronavirus, the organizational structure of the company may change significantly, and there may be few realities due to the increase in remote work, but we will soon enter the new year. As a company organization, I think that there are many events held.
Of course, it is not only the new year, but as an indispensable tool for company events, the existence of novelties There is. These things are provided by the company, interacting with business partners, it will be a fun time.
However, among these novelties, there are many illegal products that have not been certified that should not be distributed to the general public.
For example, mobile batteries (PSE), selfie stick remote control (radio law), wireless speakers (radio law), wireless presenters (PSCs), etc.
In addition, this time, the problem of novelty of electrical appliances and wireless products that require certification is written, and "novelty" on this page refers to them.
Novelty goods companies and company novelty personnel do not know whether they know or do not know about certification, and may misunderstand that they do not have to authenticate because it is something they give to people (not to sell).
As will be discussed later, even novelties require authentication. In order to prevent a sad situation such as distributing novelties as part of corporate branding but actually violating laws and regulations, I would like those involved to read this content.
Why uncertified novelties are brought into Japan
I think there are various reasons.
Novelty goods companies, corporate representatives do inexpensive OEMs in Alibaba etc.
One of the reasons is to find products in Alibaba and place large orders. At this time, I think that the person in charge hardly thinks whether authentication is necessary for the corresponding product. Or maybe you're assuming that novelties that are donated to other companies don't require certification.
To put it a little more simply, it is a lack of knowledge of companies and personnel in charge.
Because of "worldwide bulk ordering", I can not pay attention to Japanese certification
There may be many foreign-affiliated companies that are expanding globally, but when it comes to handing out novelties to employees around the world, it is not a purchase in some departments, but procurement on the entire Group and on a global scale.
Of course, I think that the source will be a country other than Japan, but in that case, for example, if it is an authentication that covers an area and population of a certain size, such as CE certification in Europe and UL standards in the United States, you may consider implementing certification.
However, most of japan's certifications are laws that apply only in Japan. In a sense, it may be natural that it is not judged that authentication is taken over time and cost only for a small market from a global perspective.
However, please remember that in order to distribute products that require PSE, radio law, etc. in Japan, you must be certified.
Basically, I can't spend money on the novelties I give out for free.
I think that the most cause is here, but I think that it is true that it is stupid to pay authentication costs for those who do not sell.
I understand that feeling well, but again, it is illegal if you do not get certification even if it is a novelty. In that case, it may be wisest to choose a different product from the beginning.
Voluntary recall of uncertened novelties
In order to express the realism of the article, we screenshotd the contents.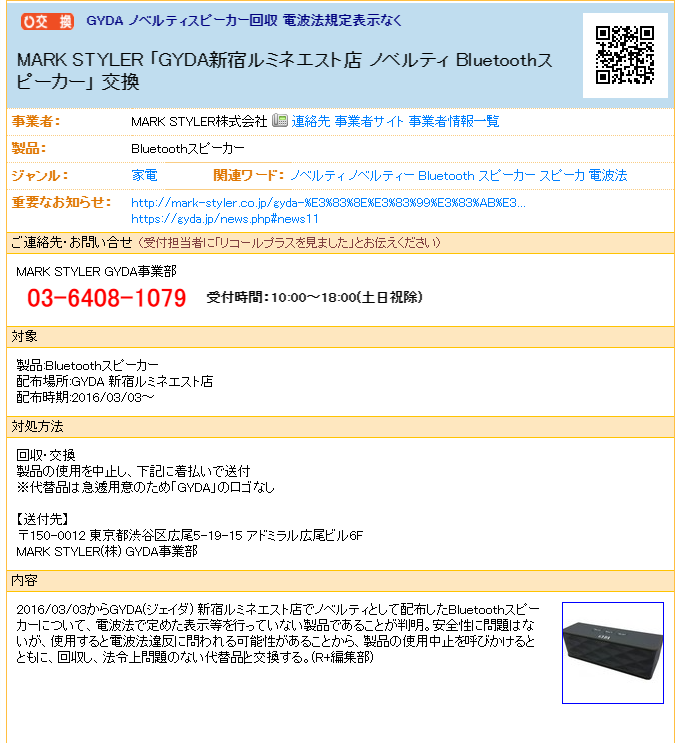 From March 3, 2016, it was found that Bluetooth speakers distributed as novelties at GYDA Shinjuku Lumineest stores were products that did not display them as stipulated by the Radio Law. Although there is no problem with safety, since there is a possibility that it violates the Radio Law when used, we will call for discontinuation of use of the product, collect it, and replace it with a substitute that does not have any legal problems. (R+ Editorial Department)
Citation: GYDA Novelty Speaker Recovery Mark STYLER "GYDA Shinjuku Lumineest Store Novelty Bluetooth Speaker" replacement without radio law regulation indication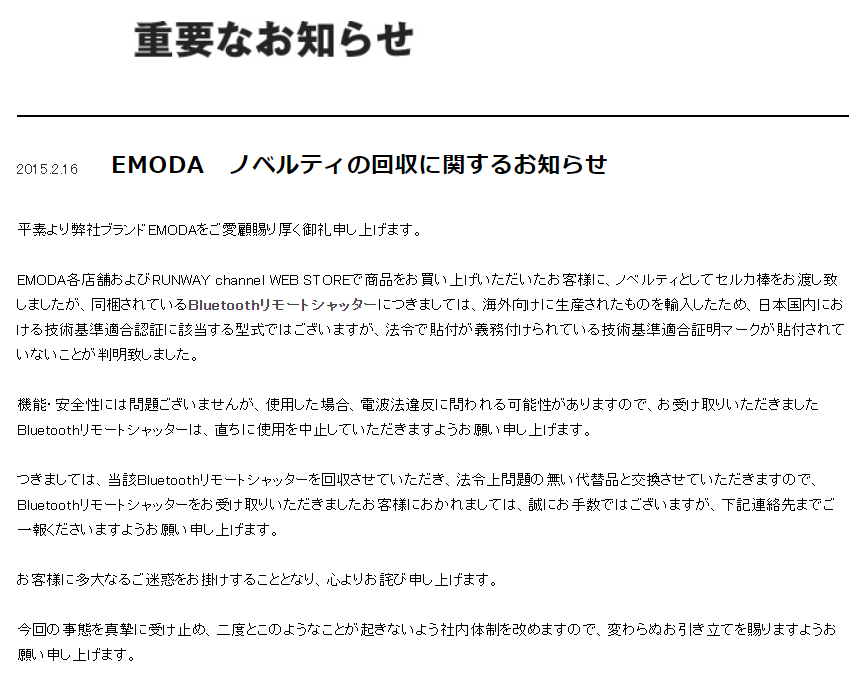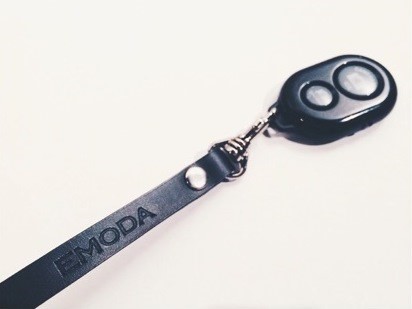 < the applicable Bluetooth remote shutter >
We gave serca sticks as novelties to customers who purchased products at EMODA stores and RUNWAY channel WEB STORE, but the included Bluetooth remote shutters imported products produced for overseas, so it is a type that falls under technical standard compliance certification in Japan, It was found that the technical standard conformity certification mark that is required to be affixed by laws and regulations is not affixed.

There is no problem with function and safety, but if you use it, you may be asked for violation of the Radio Law, so please stop using the Bluetooth remote shutter received immediately.
Citation: Notice Concerning Collection of EMODA Novelty
It may be unusual to be so important, but if you distribute illegal novelties, you may fall into such a situation somewhere, I think you can put it in the corner of your head.
There can be a tragedy that used novelty as a tool for corporate branding, but it would be counterproductive.
Uncertified novelties that still exist today
It is information heard from an acquaintance, but it is that the novelty selfie stick distributed in the company recently was not certified as a radio law.
He understands our business and has a little knowledge of certification. So, I knew that radio law authentication was necessary with the selfie stick (remote control) distributed in-house, so when I examined it a little, it seems that there was no radio law mark.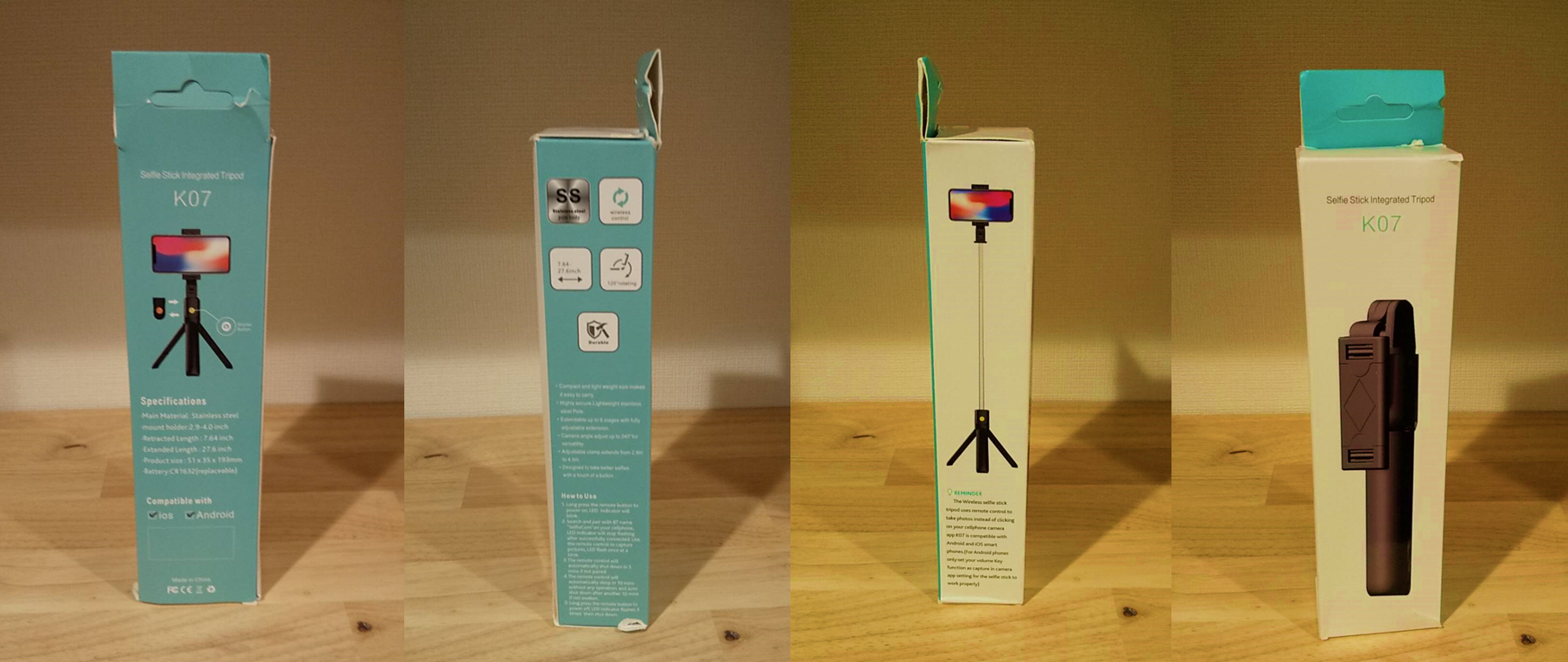 There are marks such as CE in the product package, but the Japanese radio law mark is not displayed.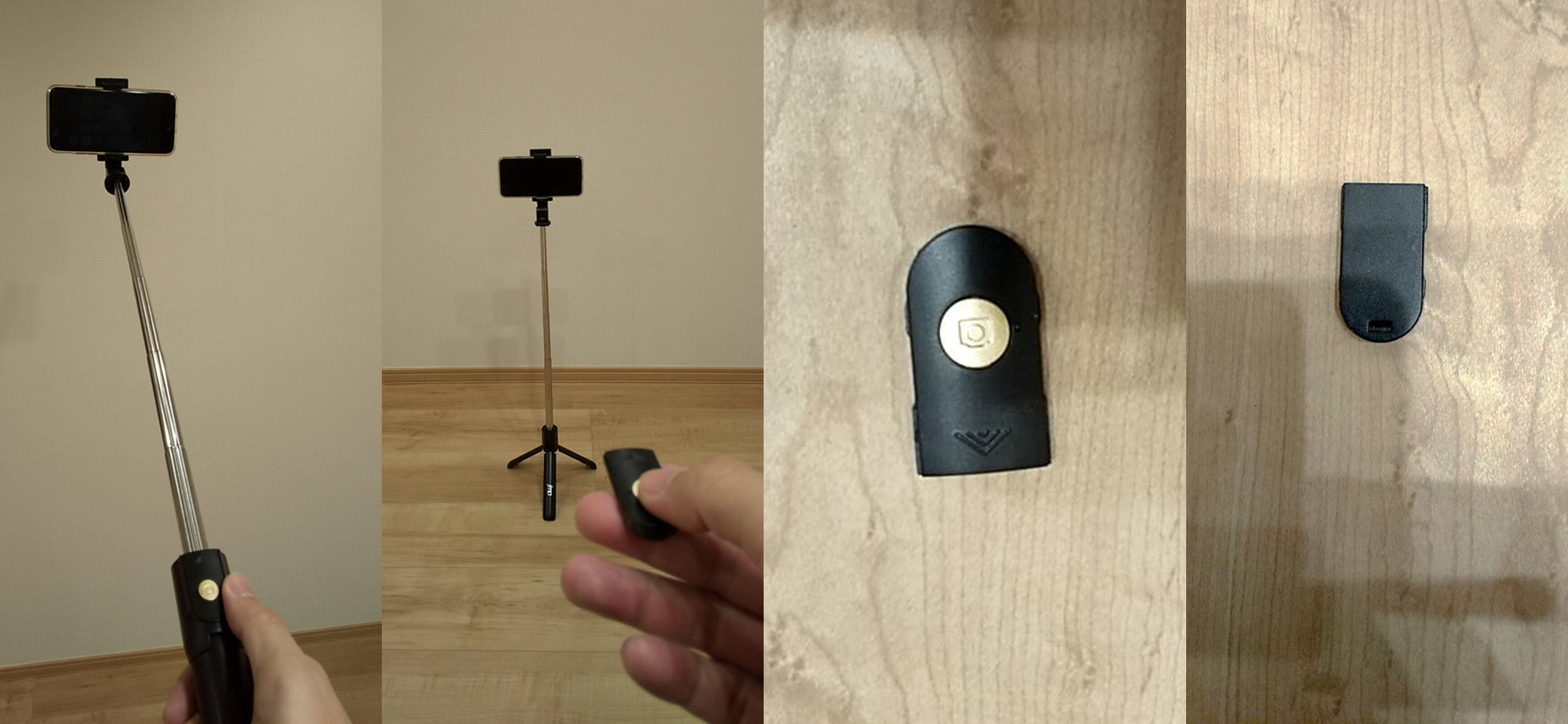 It is usual that there is a radio law mark in the remote control, but it did not
In addition, it seems that mobile batteries are sometimes distributed to novelties these days, but it seems that there are often deficiencies even if the PSE mark is not displayed on the product or it is displayed.
The most annoying is users who use novelties
Regarding radio law certification, criminal penalties such as fines of 1 million yen or less may be charged to users who use them, not on the side that distributed (sold). To be honest, I don't think there can be such a heavy punishment, but how about distributing such a possibility as corporate ethics?
If you distribute it to a business partner and the business partner receives any kind of penalty, how will the company take responsibility? There will definitely be a stop to trading.
In addition, with regard to mobile batteries, there have been a series of product accidents in recent years, and before the presence or absence of PSE, if an accident occurs, the company's credibility will be lost.
By the way, in mobile batteries (PSE products in general), the regulations of the Ministry of Economy, Trade and Industry clearly require the acquisition of PSE in novelty.
Q.17 If mobile batteries are distributed free of charge for promotional purposes, is there no problem without sales and the PSE mark not displayed?

A.17 Under the Electrical Appliance and Material Safety Act, the act of transferring ownership of electrical appliances and materials is "sale", and as a so-called novelty such as crude goods and prizes, electrical appliances and goods provided in connection with the transaction of goods and services must be displayed with the PSE mark.

Citation: Ministry of Economy, Trade and Industry homepage_Electrical Appliance and Material Safety Act_FAQ on mobile batteries
In order not to bother users in various ways, when making electrical appliances and material novelties, carefully examine the necessary authentication and take measures.
Branding is also more effective with certified novelties
If it is a level of PSE, radio law certification, etc. used in novelty, it is possible to perform authentication for about several hundred thousand yen even if we put our fee. Originally, if the meaning of budget spending is also strong, it would be one management decision to divert such a amount to certification a little.
In addition, novelty products do not have a trend that is so rapidly changing that once you have obtained certification, it is possible to purchase them from the same factory for several years.
And after all, if it is understood that the selfie stick etc. above uses things that display the certification mark tightly, it will be possible to appeal the attitude of compliance both internally and externally, and it will be a big branding.
In addition to acquiring certification, we can also consult with you from the part of purchase from overseas factories, so please feel free to contact us.
We hope you can use certified, legitimate novelties to further expand your business.
Inquiries about certification in Japan
Please contact by E-mail