Business development cases derived from china import business
Hello. It is a hori of the manager.
In the previous article, I wrote about the appeal of the Chinese import business that other side jobs do not have, but this time I would like to dig a little deeper into the part of "I can expand into other businesses".
Being able to expand other things is a very big factor as a business, for example, no matter how much you deliver at Uber Eats, you can only think of it as a different delivery service.
In addition, even if you say that you sell at Mercari, you will basically only be able to sell it at Mercari, and even if you are doing video editing work, you may be able to handle a lot of things, but you will still be able to do only video editing and related work even after how long.
However, in the case of Chinese imports, even though you are a sales player, you can do various things at the same time, and you can earn money and further expand the goods sales itself with funds.
We ourselves have launched a certification agency business while importing in China (goods sales), and we are also engaged in other (form) businesses related to Chinese imports.
I'm sorry to see the miso in the foreground, but I would like to explain that if you are doing a Chinese import business, centering on our case, it will spread so much. After all, it is easiest to tell what you did by yourself.
In addition, first of all, if there is no corresponding experience and achievements to be able to develop other, no matter how much you advertise, customers will not come. So, don't think that you will be able to expand to others as soon as you start the Chinese import business.
To the last, I would like you to assume that you need some experience in order to develop others.
In fact, there are many companies of all sizes who want to expand to China.
First of all, it is easy to think that the business of negotiating and importing "things made in China and made by yourself" and selling them in Japan is familiar and is done by any company if it is a corporate unit, but there are still many companies that have not been able to do it.
I'm just buying it from an importer.
Of course, there is no doubt that it is a business that you want to work on as a company because it is more likely to make your own or negotiate directly with the Chinese side, but there are many companies that do not take the time and resources to execute it.
In addition, there are many people who want to do the Chinese import business on an individual basis, but most people do not know how to actually proceed.
Under such circumstances, I can go to a big market called "support for people who are troubled with the way of importing China" by memorize the Chinese import business (goods sales). Let's put that point in the corner of the head by all means while importing China.
Support consultation for people doing Chinese import business
So what kind of support can you actually do?
Certification agency business
I think that this will be only a story of our company, but the certification agency business is exactly a support consultation for those who are doing The Chinese import business.
When importing electrical appliances (PSEs) and wireless wireless products (radio law) not only from China but also overseas, license certification is a major barrier. Clearing this barrier would be fine for the largest companies, but it is quite a hurdle for companies that are smaller in size and do not have a certification department.
Then, our service solved such problems as to what to do with certification and whether it is possible to get overseas factories to get Japanese certification in the first place.
This time, I will not write in detail about the contents of the certification agency business, but the background that led to this business started from the wireless presenter (PSC / Radio Law) who I wanted to sell myself.
Are there many people who try to authenticate by themselves and are actually having trouble with authentication? I started little by little from the place where I thought.
Purchasing agency service
This is also a content that has been asked and inquired about recently, but there are many people who want to find a product that is likely to sell in Japan and look for it in China and sell it.
To be honest, since it is about 1 to 2 products without intending to handle a wide variety, there are many companies that do not need to start importing themselves, have resources that can import, and want to ask a contractor who seems to be a good turn.
This is a pretty delicious business because you only have to do what you always do to buy your own products for other companies. Especially if you have the unique strengths of your company, the probability of being chosen will increase further.
Consultation on product development and manufacturing
We have worked on various OEM products ourselves, and in particular, there are many defective machine products that require certification, and we have been in consultation with the Chinese factory every time. Therefore, we roughly know how to negotiate with the factory.
Recently, Chinese partners are also familiar with the technical parts of machine products, so they are often asked to participate in meetings with factories to combat defective products.
There is also a business of consulting for people who do not know how to negotiate measures against defective products and product improvement with local factories.
Consultation for those who want to do a Chinese import business
Basically, we are not recruiting, so there are not many, but so far we have also worked to tell know-how to some people who want to start a Business in China from the beginning.
How to choose a product, how to purchase a product in China, how to arrange logistics, how to create an Amazon page, etc.
There seems to be a seminar etc. that charge hundreds of thousands of yen just by telling that there is a job called a Chinese import business in the streets, but basically I think that the price setting that beginners can start at a low price is good, but there is also a job of systematically teaching what I have learned and practiced so far.
It is a job that becomes a considerably good income if the number is done.
In addition, the know-how of Chinese imports is quite available in books and the Internet, but the demand is quite high because it is a business that can not be mastered unless you learn it well by people.
Tour to Chinese exhibitions and Gicho (Fukuda Market), etc.
The photos were taken at the Guangzhou Exhibition only for those who received our consulting service.
All of them participated free of charge and only the actual fee, but we made all arrangements such as accommodation and interpretation. Thanks to you, we have accumulated considerable know-how on attendance.
I have really walked around many exhibitions so far, so I used my experience to tell them how to go around the exhibition and how to negotiate with the booth staff.
In fact, it is only a business.
And, the work of the exhibition tour of the scale of 30 people had come in in another mouth, but it was canceled by coronavirus. In addition, it seems that china (overseas) exhibition tours can not be conducted for a while, but it is safe to remember that these things will also be business.
There are few Japanese who can do business while touching the atmosphere of the land overseas, not sightseeing, and if you are training in the practice of Chinese import business, you will be able to hold such events.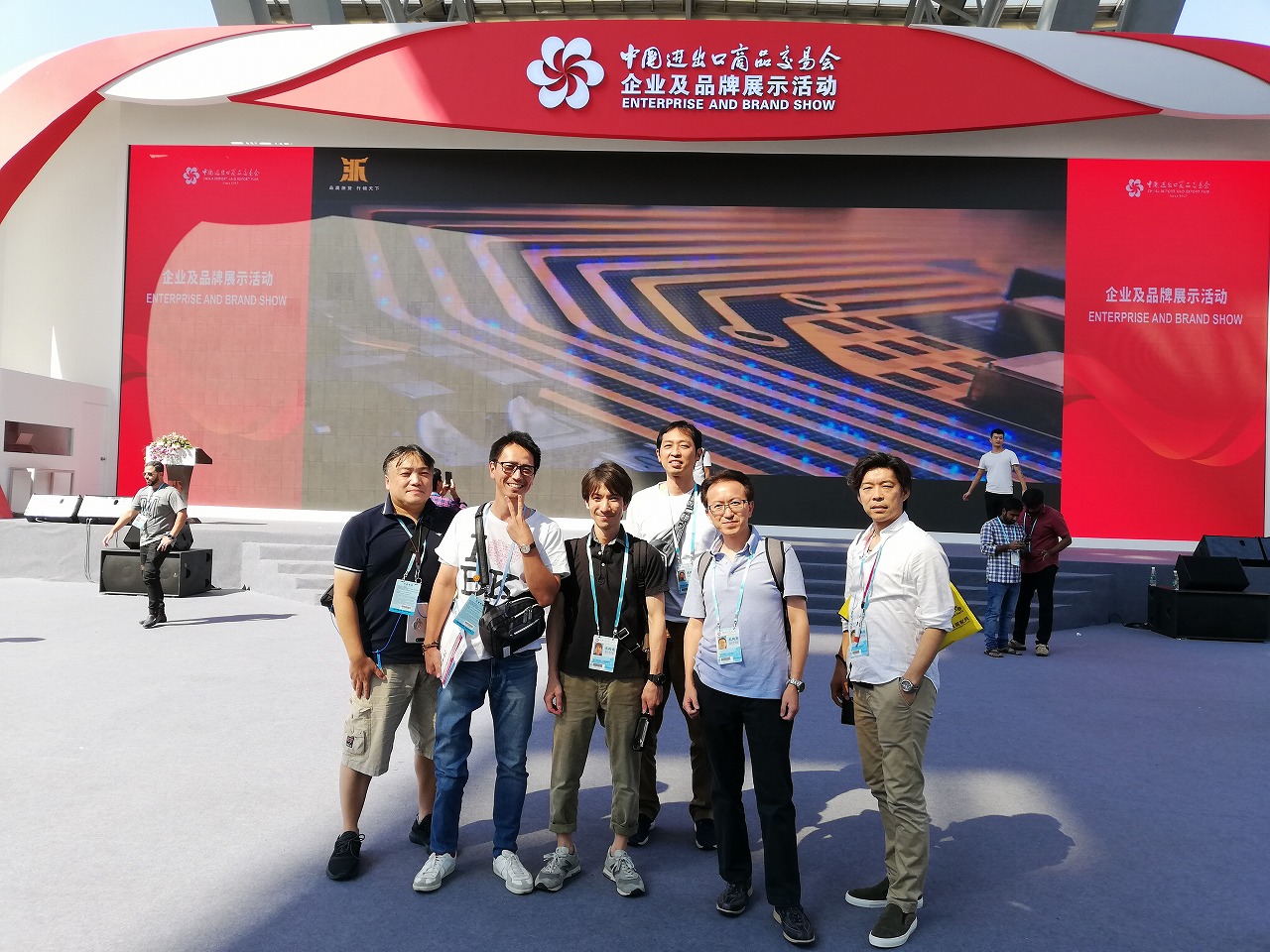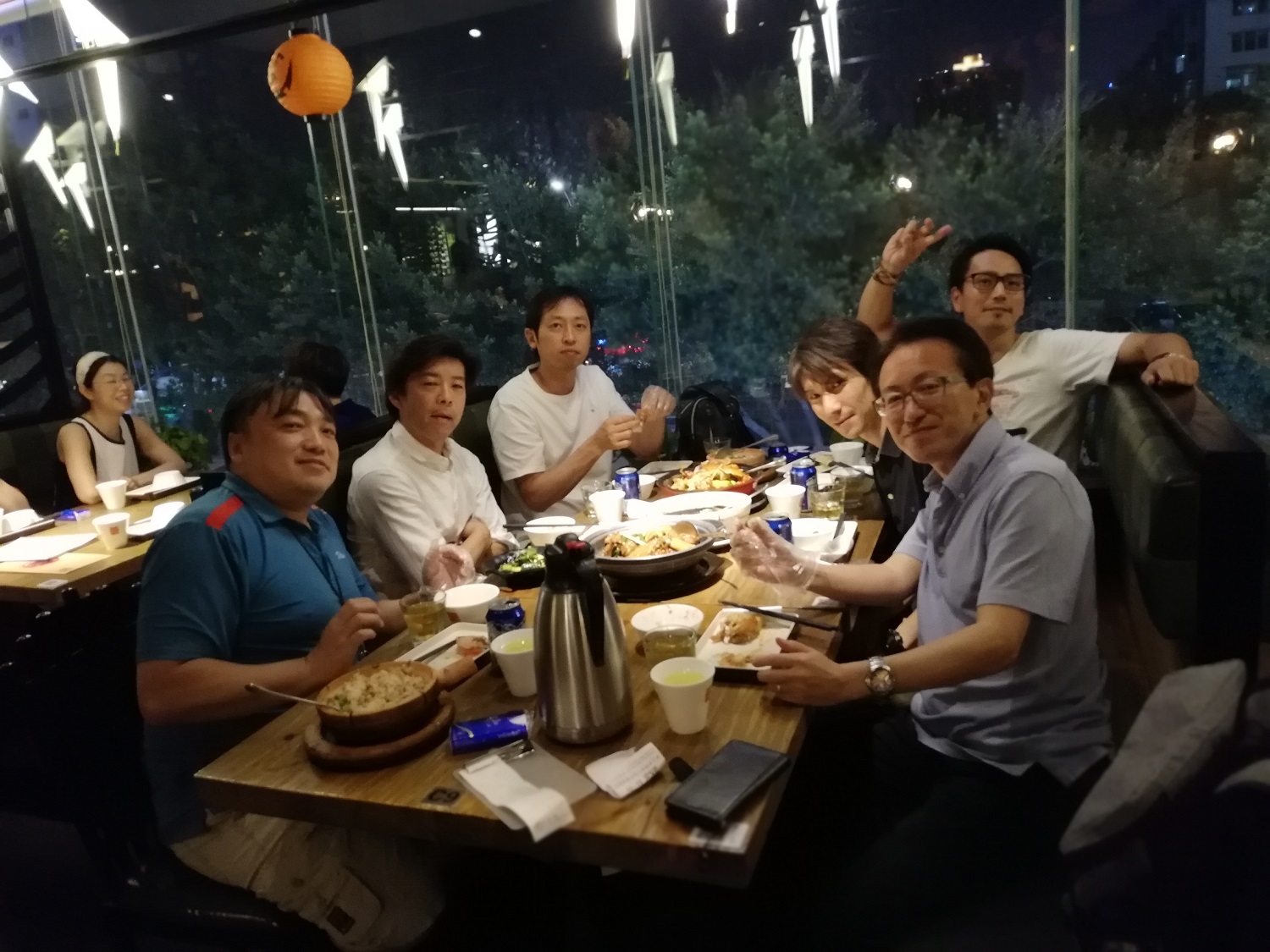 Guangzhou Exhibition Tour in China
Wholesale business as well as retail on Amazon and Rakuten
When it comes to selling products purchased from China, many people may think that all of the sellers are only EC malls such as Amazon and Rakuten, but in fact, there is also an option of wholesale.
For example, I myself have only Amazon opened a store in an EC mall, but Rakuten etc. etc. have high exhibition fees and do not want to increase the time too much, so it is also possible to wholesale to Rakuten sellers.
In addition, there is a way to wholesale to sellers of corporate sites such as ASKUL, for example, it is possible to wholesale your best-selling products (OEM products) to mass retailers.
Having your own products means you can expand your sales channels like that. Basically, if it is a business that deals with other people's products such as sedori, it can not be like this.
As an aside, it is also possible to transfer a set of sales rights to products you have grown to others.
Again, keep that in mind, as the possibility of having your own product is immeasurable.
Made in Japan business to make Chinese products at factories in Japan
Since this is our new business, to put it simply, we will oem the best-selling products found in China and make them at our Japanese factory. In fact, the current Japanese factory may be made cheaper than you think.
And the most important advantage is that you can do safe business because you can communicate with the factory and Japanese, and you can mark "Made in Japan" when selling, so it is possible to greatly differentiate it from many "Made in China".
Once we know that Japan will sell to some extent, we will also be considering exporting it overseas as a "Made in Japan" product.
However, it is still risky to make it in Japan from scratch, so you need to start by finding a Chinese product that is selling well.
In addition to this, there are many businesses derived from Chinese imports (goods sales), but I explained mainly our case. I think that business will become more and more advantageous if you keep in mind that there are not only simple buying and selling of things (on EC sites) but also such next developments.
If you would like to consult with us on such a point, please feel free to contact us.
Inquiries about certification in Japan
Please contact by E-mail