7 processes required for manufacturing and PSE inspection of large electrical appliances from the first
Hello. It is a hori of the manager.
I would like to write about the flow of manufacturing and PSE inspection of large electrical appliances and supplies at the Chinese factory, which has been increasing the number of inquiries recently.
Up to now, this site has mainly written about obtaining certification such as PSE and radio law necessary for OEM sales of ready-made electrical products of the Chinese factory basically.
This time, I would like to introduce how to proceed with the project based on our examples for customers who want to work from manufacturing itself.
First I'll write a little negative.
When it comes to manufacturing from scratch, it starts from ordering molds, so the cost will be quite large, and at the time of this order, the factory will not go out unless ordering on a scale of several thousand pieces.
In addition, if it is an electrical product, PSE inspection is required after the sample is manufactured. In other words, we must design and procure and install parts on the premise that they will be distributed in the Japanese market.
The words are bad, but they don't have to be made, they need to be designed according to certain criteria.
If it is a product of the size to be handled by hand, it may still be possible to manufacture it, but if it becomes a large product, there will be many parts to be used, so we will make it quite carefully while keeping in mind the parts and equipment necessary for PSE certification.
If it is a factory that has been conducting PSE inspections many times, it may be possible to manufacture it just by consignment, but there are basically not many such factories, and if you can not make the product that your company wants to make just because it is strong in PSE, it is meaningless.
Fundamentally, the first step is to find a factory where you can make the products you want to make. Of course, the difficulty becomes considerably high because it teaches the pse to the factory. To be honest, I think it will be a project that can not be done at the level of trying a little bit.
However, that is why it is a business opportunity that other companies can not easily enter.
In addition, as a place in the first place,
Is it possible to make such arrangements?
Isn't that what only major companies can do?
Some of you may be wondering.
We can support you in terms of technical aspects. I think you can grasp the rough process by reading this article.
On the other hand, in terms of funding, of course, some funds are necessary, so most companies are medium-sized or larger, but even if you are a small business operator, you will not be able to do it if you use funding well.
The bottom line is whether there is such a business story.
In this article, if you learn that there is such a business and it is not impossible at all, I think that it will be helpful when thinking about a new business in the future.
Rough flow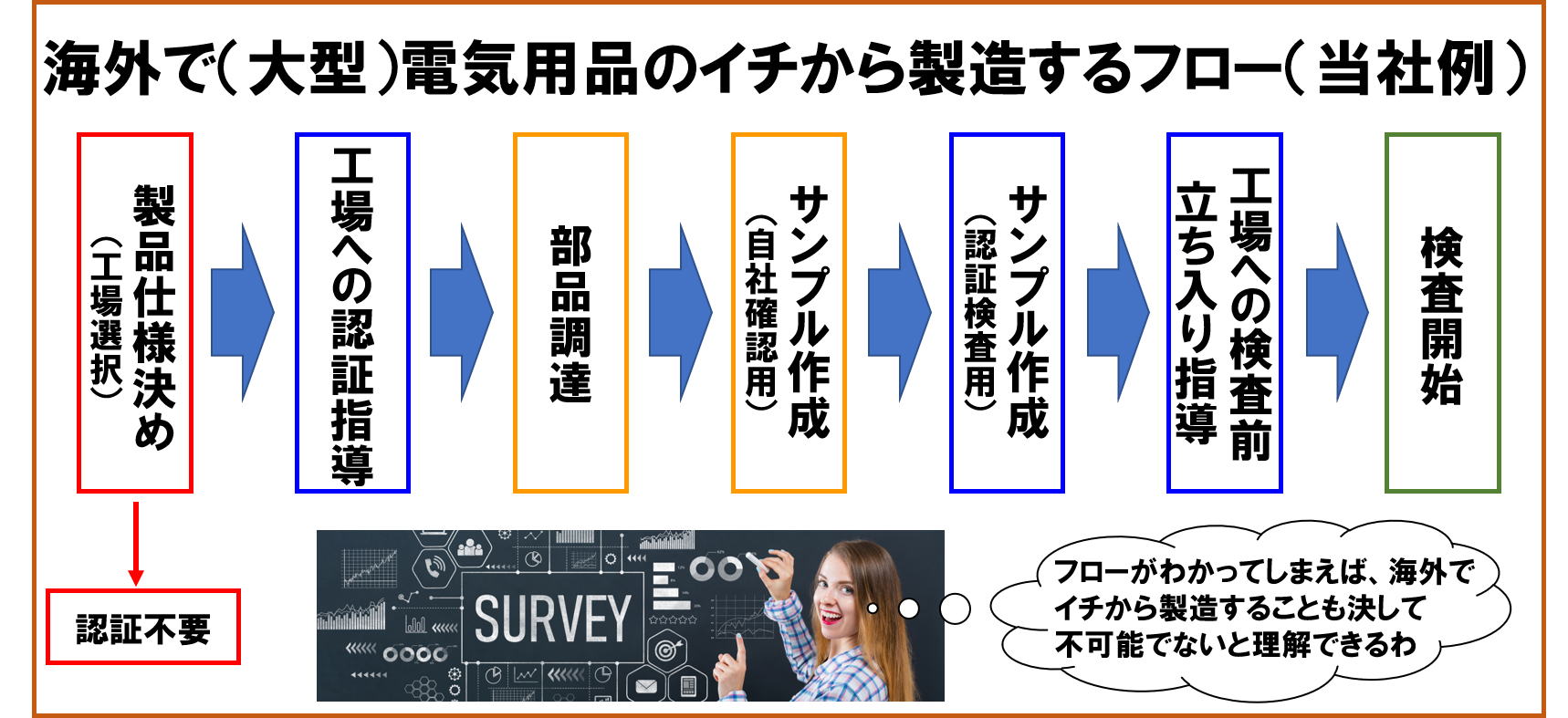 The individual explanations will be written sequentially, but the general flow is such an image.
It is also a comment in the figure, but if you understand this trend, you will have an image of how to actually proceed, and I think that it is not impossible to manufacture large-scale electrical appliances from the beginning overseas.
First of all, let's keep this knowledge in mind.
Let's explain each process.
Product specification determination (factory selection)
We can't move here unless you decide.
However, our strength is that we can always authenticate whatever the specifications are.
For example, I think that it is necessary to decide various specifications for each product, such as switching function, thermal function such as thermo heater, and cooling function opposite, but you do not have to worry about certification to be held later.
In addition, if you want to support from the factory selection, it will be a separate cost from certification, but that is also supported.
In addition, it is possible to arrange a visit to the factory in advance, but whether it actually realizes it depends on the convenience of the factory.
Certification guidance to factories
Once you have decided on the general specifications of the product, the first thing you need is certification guidance (PSE consulting) to the Chinese factory.
This must be done to the factory site to actually check the equipment of the factory and install it cooperatively.
What we need to do most is to make the Chinese factory understand Japanese PSE law to some extent.
I have told you many times on this site, but it is very difficult to understand Japanese law (to some extent) in a foreign country called China.
In Japan, it is difficult to understand the laws of other countries and manufacture products, so it is necessary to make such efforts, such as whether to include consultants who are familiar with the laws of the country or to set up a factory locally.
If we are to produce electrical appliances used in Japan at our Chinese factory, we still have to make sure that the factory understands Japanese law.
First of all, we must inform the president or the site manager class what kind of system the PSE in Japan has, what safety standards are established, what parts are required, and that the product samples made have certification by the inspection body.
Even if you make a mistake, it is not a story that can be moved only by the person in charge.
Of course, there is no such a thing though it seems to be mistaken occasionally that the factory can do anything if only the instruction is put out once if it has not seen the site of production.
Since what is made is a machine, of course, it is not good to assemble it appropriately, it must be done precisely, and the origin must start from the consciousness that the factory makes products that comply with Japanese PSE standards.
We also provide consulting at such factories, so please feel free to contact us if you have any orders.
Parts procurement
At the same time as consulting at the factory site, we also check the production facilities of the factory.
In contrast to the product specifications you want to make, we will create a list of parts necessary for PSE inspection and to achieve that specification in general. (Format is on a case-by-case basis)
Customers and factories share this, decide which way to arrange parts, and proceed with procurement.
Based on the procured parts, the factory will create a parts list for PSE inspection. The important thing here is that there is no such thing as whether parts can be anything if they perform functions, and where necessary, parts that comply with Japanese PSE safety standards must be used.
Of course, we don't know about this at the factory, so it will be difficult to realize it unless we welcome consultants like our company.
Major companies spend tens of millions of yen on such development, but one of our strengths is that we can do it at an order of magnitude cheap price.
Through this kind of consulting, the factory creates blueprints for product schematics, specifications, etc.
Sample creation (for company confirmation)
Don't be impatient, first check the sample to see if the product you make from scratch is satisfactory in your company. The final form is not completed suddenly.
Please carefully check how far the specifications that our company envisioned have been realized beyond the walls of the factory's production technology and pse.
Your representatives should be packed while the factory is producing, and we also answer questions from the factory one after another and report to customers if necessary, so at the time of completion of the first sample, there is basically no machine that you have never seen suddenly.
However, it will be the first time to see what is shaped as a machine, so please consider various things there.
In addition, if necessary, if there are products and parts that are required in addition to PSE, it is necessary to prepare suppliers to procure them.
Sample creation (for inspection)
After checking the confirmation sample, we will tell the factory the correction points if it is acceptable, and this time we will make a sample for PSE inspection.
When it comes to inspections, it is necessary to make it almost as much as what is distributed in Japan, so communication with the factory will become more dense.
Whether you really want to proceed as it is with the specifications of the request, whether the status of parts procurement is, etc.
If parts were not available by all means, the factory would continue to contact them every day, such as whether it would be possible to use a substitute.
Of course, we will also support you.
Guidance before inspection to the factory (in the case of specified electrical appliances)
In particular, in the case of specified electrical appliances and equipment, there is a visit inspection to the factory by the inspection organization, so the factory must prepare production equipment and respond to inspection organization staff.
In the past, chinese inspectors and chinese factory people talked to us, so will you do well around that? I had a question, but don't say anything stupid.
There may be such low-level inspection agencies, but basically they work seriously, and the Chinese inspection organization for specified electrical appliances is strictly handled by international inspection organizations such as TUV and CQC. So I think it's better not to look too sweet.
Under consulting guidance, there will be no problem with on-site inspections because it is a factory with enough production function to make PSE products, but considering the effort so far, I think it is important to create a system for PSE testing again.
PSE inspection
Once the inspection has actually started, the customer will not be asked to do anything.
Pse inspection requires product samples, schematics, specifications, parts lists, and other documents, but there is no problem if you leave that area to the factory.
If the inspection starts, on the contrary, the inspection end time will also come roughly, so leave the inspection itself to a consulting company such as the factory and our company, and for customers, please do more and more that it is piled up, such as the maintenance of channels for distributing products in Japan and the creation of product packages.
We can advise you if it is about online sales, but when it comes to large-scale products, there will be a company's own sales network, so I think that there is no support for that.
You will be dedicated to that and we will do our best to ensure that certification proceeds.
In addition, we will support you so that you can smoothly apply to the Ministry of Economy, Trade and Industry.
I wrote about a series of processes for manufacturing large-scale electrical appliances in China. If you look at it this way, you'll see that it's never impossible.
There may be few opportunities to find business opportunities in the manufacture of large products, but if you have the knowledge that it is possible, you will eventually gain an advantage when you come into contact with such opportunities.
We hope this article will help you develop your business.
Announcements
We are currently recruiting agents for our certification agency business.
Why don't you start a side business with a certification agency model that makes a profit of 100,000 yen or more with a single order?
For details, please access the information page from the banner below.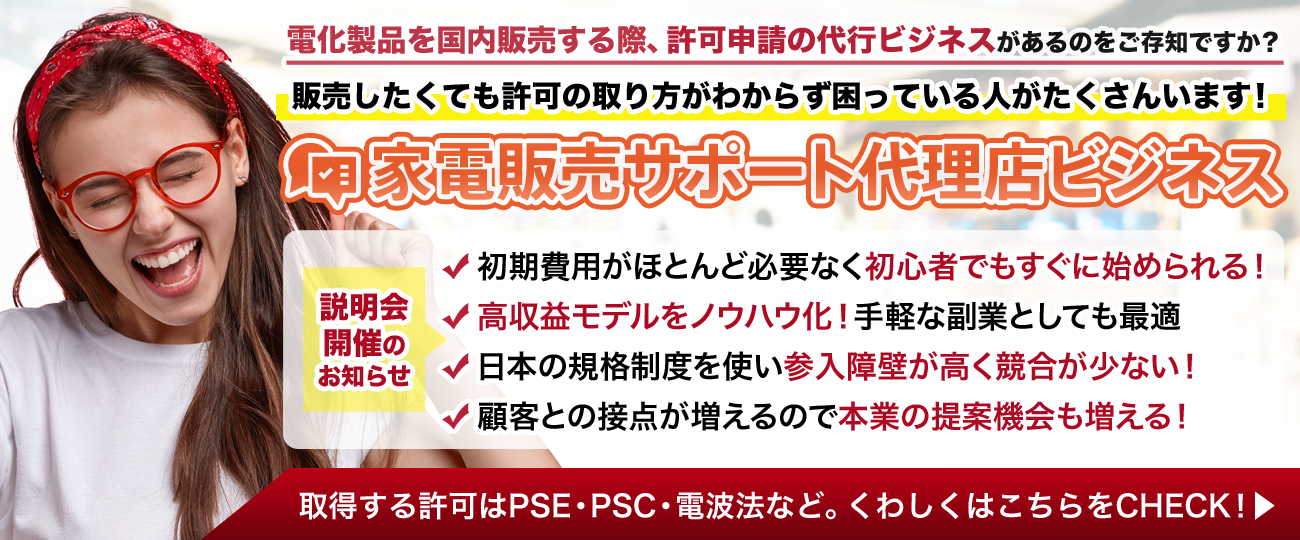 認証・中国ビジネスに関するお問い合わせは
INSIGHT WORKSホームページから
メールでのお問い合わせ
認証ビジネスについて学びたいなら最新情報をキャッチ
無料メルマガ「認証の原理原則」に登録!
数々の認証を経験・成功させてきた堀雄太が認証ビジネスに軸にして、中国・日本における新規認証ビジネスの構築の仕方や、中国ビジネスなどを紹介しています。
初めて認証に取り組みたい方へのお役立ち情報や、自身で依頼主様の認証サポートを行いたい方に向けてセミナーや勉強会なども予定しておりそうした情報をいち早く告知させていただきます。
2020年8月21日(金)より毎週1回配信!