For those who have difficulty contacting us, 7 flows of certification agency such as PSE, PSC, radio law, etc. that you want to remember only this
Hello. It is a hori of the manager.
Since we started our certification agency service, we have received many inquiries and requests thanks to you.
However, on the other hand, we have received such words from customers who actually contacted and requested us.
It's not because this is your company (INSIGHT WORKS), but it was my first time to authenticate, so I was very hesitant to contact you first. Because, if you inquire, it may suddenly be open. Since this is a field without knowledge at all, I would like to rely on it, but since there is little information on the net, it was difficult to make the first inquiry because there was no comparison target.
It was good because the fee was clear to some extent, but I also wanted to know in advance how the work actually proceeded.
I am very grateful for this proposal.
From the standpoint of developing the service, of course it is in my head how to proceed after receiving an inquiry, but I can understand that the first person does not know at all.
In particular, authentication services are not buying and selling goods, but in the end, certificates are issued in a world where deliverables can be seen to some extent, but it is still painful to hear that the flow is too mysterious.
I did not hide the flow by any means, it was not enough to hide it, it was just that I did not notice it, so this time I tried to create a flow easily.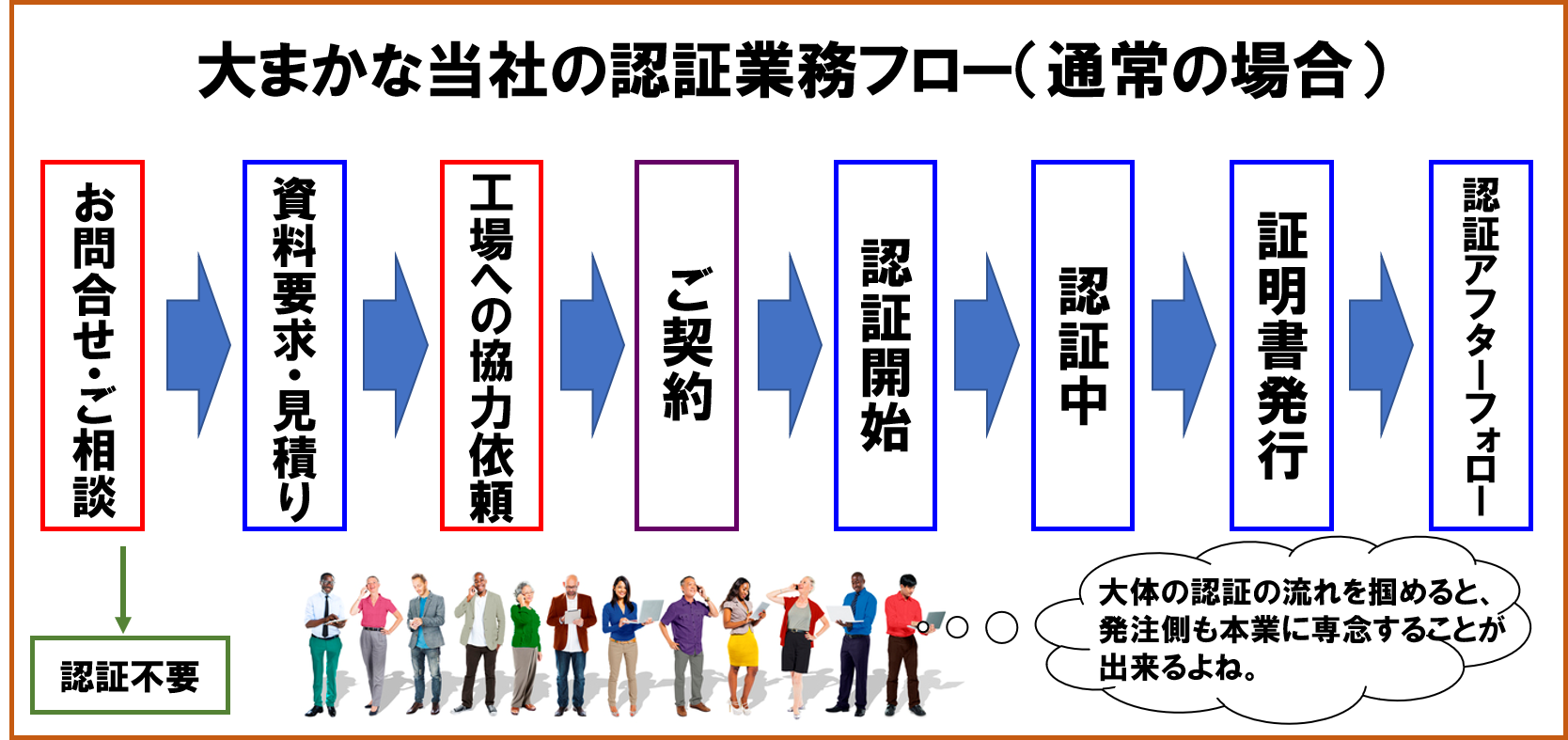 * The red frame is the customer's matter, the blue frame is our matter, and the purple frame is a matter of both companies.
However, as we have repeated many times on this site, basically all projects such as products, certification types, factory correspondence, etc. are customized. They won't always be the same, but it should be a good flow.
In this article, we will explain what kind of work actually occurs in each process in the figure above based on our case.
In addition, it is not in the sense that please contact us with confidence because you saw this, and we would appreciate it as a model case that the certification agency is proceeding with work in such a flow.
I think that it is good if you can compare it with other companies with this.
Inquiries and consultations
Basically, we do not do business from here, so I would like you to feel free to contact us first.
I don't know what other companies are, but at least we do not do unreasonable closing, so please be assured.
As a straight business to the last, we will support you so that you can obtain the certification necessary to sell products in Japan without excess or deficiency.
In addition, if you can contact us, you can proceed smoothly if you can contact us and consult in the form that you are considering certification because your products require ○○ certification.
In addition, if possible, if you can write the details of the current situation as much as possible, we can make various proposals. I'm sorry to ask you, but if you can have it in a long sentence, it is easy to set up measures in the future.
On the other hand, if the customer has also examined it in advance, you can also propose here or give advice from specialized knowledge, but if there is not much information, we do not know how far we can talk.
On the other hand, as I wrote in another article before, if you do not know what certification your product needs and you want to hear only information for the time being, it is difficult to proceed with the story, and in some cases we may refuse at the first stage.
Of course, we will accept correspondence by phone, online, etc., and if you can request certification, we will ask directly and ask about the issues you are currently facing and propose future ways to proceed.
Request and estimates
When I receive an inquiry, I always say, "Then, please send us a website URL, specifications, product instructions, etc. that can understand the product information first." 。
A common misconception for first-time customers is that all authentication costs are considered to be the same price, or that the certification price can be calculated simply by asking the name of the product.
To tell the truth, there is no such thing, and even a similar product changes greatly depending on product specifications, electric power state, radio wave state, factory location, factory equipment system, etc.
However, our strength is that we can roughly estimate if there is a product website, specifications, etc. If you need other materials such as schematics, we will tell you separately.
Some of them say that if you do not submit all the necessary documents for certification, you will not be able to give an estimate (you can not give it), but if you do it, you will not be able to even estimate even after a long time, so we try to make use of our many years of experience to make estimates and submit estimates as simply as possible.
In the past, a customer who submitted an estimate told us, "Why can I make an estimate even though I haven't issued all the documents from the factory?"
In addition, it is possible to provide it free of charge if it is a simple product estimate, but for things that are a little complicated, we charge an estimate preparation cost of 30,000 yen (excluding tax). This is refunded at the time of authentication request.
Request for cooperation with the factory
Once you have confirmed the quotation, you will be asked to cooperate with the factory at the same time as the contract in the next paragraph.
As I have written many times on this site, it is up to the cooperation of the factory to determine whether or not certification is possible. If the factory does not give you samples and technical materials, you can't do anything, and if you do it cooperatively, I am confident that I can definitely certify it.
However, it is necessary to ask the requester, not our company, to request cooperation to the factory.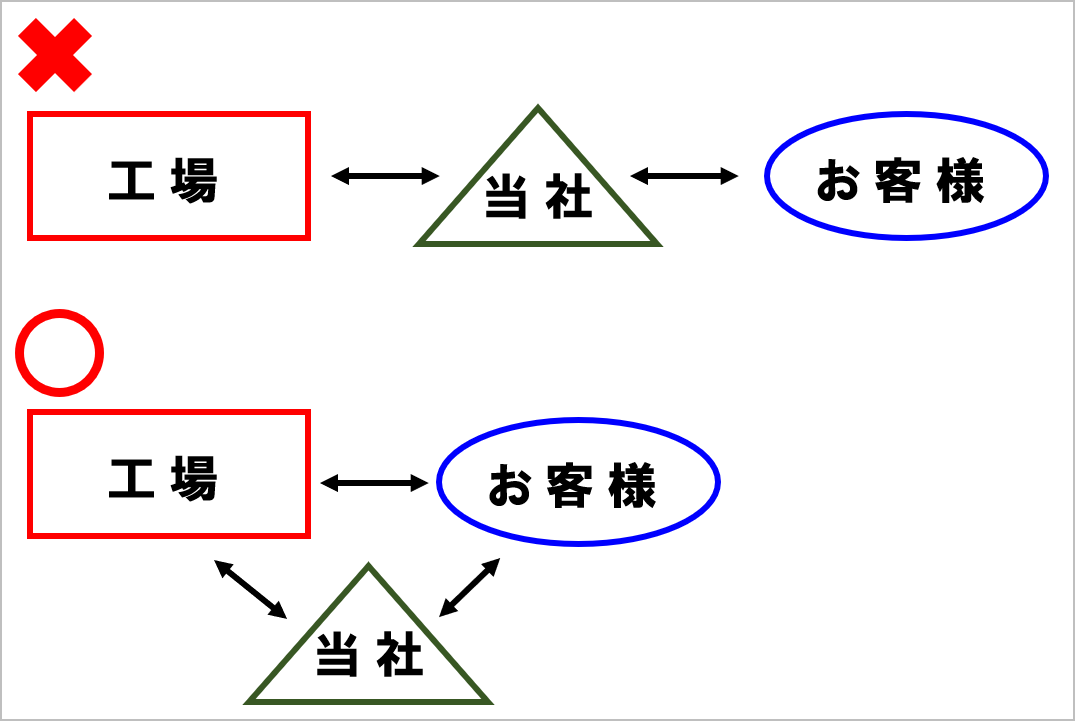 It is a simple conceptual diagram, but as an image, I feel that we will proceed with the certification requested by the customer to the factory while communicating with both the customer and the factory.
After all, the only benefit of cooperating with certification as a factory is how much you can buy the product. are.
No matter how much we cooperate in certification, put out documents, and take out samples, the factory will not move without its merits.
And, it is only the customer who can decide the number of orders, and I want you to cooperate in authentication because I order 0000 pieces, and there is a negotiation such as △△ payment by the deposit, and we will be able to move only.
Negotiations with Chinese factories may be difficult, but conversely, this is the job that customers do mainly.
As long as there is no problem during authentication, we can basically proceed with the certification.
Contract/Deposit
If there is no problem by checking the quotation, it will be a contract. In addition to the contract, you will be asked to enter into a nondisclosure agreement, and you will be asked to provide the contact information of the factory.
Since all the templates are in our company, after confirming the contents, it will complement the stamped items of both companies one by one.
After that, when you receive a deposit, we will start contacting the factory in earnest and authentication will start.
I often have questions from customers about whether it will be half a payment, but we receive a flat full advance payment. 。
There is a reason for this, and in fact, the inspection organization basically does not move unless it is a advance payment, so it is necessary for customers to pay with a deposit by all means. Thank you for your understanding.
However, I think the customer is worried about what to do if the authentication fails, but the contract states that if we do not reach certification due to lack of technology, we will respond to refund negotiations.
On the other hand, if authentication does not work out for reasons such as not cooperating with the factory, it is assumed that it is not the limit, and it repeats many times, but after all, the cooperation of the factory holds everything in the possibility of authentication.
We are confident in our technical capabilities, so we hope that our customers will proceed with negotiations with the factory at any time.
Authentication started
Once authentication starts, you basically don't have to do it.
Up until now, I have not contacted the customer any particular way after the contract, and after about a month and a half, I have reported that "authentication has been completed safely".
Authenticating
Our motto is not to bother busy customers, so we will respond here as much as possible what can be processed here.
However, we will naturally report what you need to make a decision, and we will respond to all questions from customers during certification.
Our contact with the most accurate care of small and small while overtook has been very well received by customers.
If it is not necessary, we will proceed with the certification as it is without contacting you, and if necessary, we will contact you sufficiently and proceed with authentication with peace of mind.
However, the factory rarely moves easily, and here also has a strong desire.
However, if you do something that causes impatience and can be abused at the factory, you will not be able to contact you as it is, so you may need to proceed carefully and tenaciously.
In such a case, of course, we will report it to you.
Certificate issuance
After the verification check is completed, the certificate is issued after confirming the document. The certificate issuing form is different in PSE, PSC, radio law, etc., so I will tell you that in advance.
In addition to PSE's specified electrical appliances and equipment, please note that when using an inspection organization in China (overseas), the certificate will be sent in PDF data instead of the original paper.
Of course, please be assured that there will be no problems with it in the process.
Certification after-sales follow-up
After certification, pse must apply to the Ministry of Economy, Trade and Industry, but we will support you and will also support the creation of voluntary inspection reports.
In addition, we also respond to the responses of competent ministries and agencies such as the Ministry of Economy, Trade and Industry and the Ministry of Internal Affairs and Communications, and give advice on retailing if necessary.
In particular, there are many consultations that we want to take measures so that factories do not use it for free by other companies because we paid the cost in-house and authenticated it. Of course, we have the know-how about it, so please ask us any questions.
Our main business is certification agency, but we do not fit that much, and as a business partner of our customers as much as possible, I would like to serve as a business partner from the beginning to the end of authentication.
As mentioned earlier, the above is our certification agency stance, so please feel free to contact us if you are interested while comparing it with other companies.
I'm looking forward to working with people who are looking forward to this.
Inquiries about certification in Japan
Please contact by E-mail