A must-see for those who want to start a business or side job! Customer Stories Of Startups in the Authentication Business (1) – Part 2
Hello. It is a hori of the manager.
In the previous article, I wrote the story of Mr. Mukai, who started up in the authentication business, but this is the second part.
As I always write on this site, business and work are not overperfilled in one plate, and it is possible to disperse variously.
Simply put, people who work in their main business will do side jobs, and people who have already started a business should have multiple businesses.
This is not a story at a level that can not be done, but a story that can not be maintained continuously if it is not done, in a sense it is an essential story.
Even if the current situation is going well, if a major social change occurs like this coronavirus problem, there is a high possibility that it will be ruined immediately.
For example, we are engaged in a certification business involving China, but we are still dispersing things such as (1) certifying and selling by ourselves, (2) proposing it as a business to customers, and (3) acting as a company's certification, and we plan to continue to increase the number of items handled in the future.
More specifically, we also provide pse, PSC, radio law, and other certification methods. This is quite unusual, and most of the agency companies are only PSE and radio law.
One of our strengths is that we do not serve dishes in one field and distribute our handling fields.
On the other hand, if you understand the importance of side business and entrepreneurship,
Most people think they're going to try it, but they don't know what to do specifically.
After all, there are many patterns where only time passes in the search for the neta.
Of course, the business started from the search for the story, but it was still difficult to find the story while doing the main business, and Mukai-san had such an impression at first.
However, Mukai-san has survived in a self-employed world, so once he learned the place of work, the absorption was quick, and the attitude of trying to get used to work as soon as possible was a good idea.
In that sense, there are some types who grow up well if there is a little chance of Hong first, and I feel again that the style of side job is different for each person.
In the first part, I wrote about mr. Mukai's history of starting up in the authentication business, but in the second part, I would like to introduce the trajectory after actually starting.
Again, the style of the article consists of mukai's remarks.
Did it actually go on sale for a few months?
As I wrote last time, it is usually said that radio law authentication is about 6 to 8 weeks, but in my case it took about 16 weeks.
I wrote about the reason for the delay, but the production plant itself was working with motivation, but it was that the supplier providing software was taking time and effort.
I was relieved because I received a one-on-one report from Mr. Hori, and I thought that it would be something about it in the end, but I honestly think that it took a little time after all.
However, in the first place, we suddenly negotiated with the factory we found in Alibaba, so if you think about it normally, I think that it is a miraculous story just by being able to cooperate with certification.
It is a strength of insight works' know-how that can make that possible.
Normally, it is said that it is necessary to find a factory through various tsute, first go to the site, greet the factory, negotiate conditions.
If it is a major or medium-sized company, it will do that much, but for people who start a business as a side job, the hurdles are too high, so if you think about it, the certification was completed in about 16 weeks, and that may be a good story for cospa.
Of course, authentication may be completed in about six weeks, so that's a case-by-case basis.
In any case, I was really happy when the authentication was over and the certificate of radio law arrived.
I was full of feeling that I could finally start my own business.
Memorable difficulties
During the certification period, all necessary preparations such as taking product photos for Amazon pages and creating product instructions were completed, so I thought that I could sell immediately after the certification was completed, but there were two main difficulties.
If you do not have a radio law certificate, you will not be able to register for listing on Amazon.
This may be obvious, but our products seem to have been determined by the Amazon system that radio law certification is necessary, and we were asked to submit a certificate when registering for listing on Amazon.
Because of this, it was not possible to complete product registration only in advance before certification, and it became product registration after the certificate was issued.
If you are an Amazon experienced person, you will know that in order to ship the product to the Amazon warehouse, it is necessary to issue a product label or shipping label, and the initial order will be delayed a little if the product registration is not possible until the certificate is submitted and accepted.
Also, as I can say now, even though I submitted all the materials that I was asked for properly, the person in charge of Amazon did not understand the radio law, and it was a little complicated and it took time to register.
While I think that it is strictly and well managed, I see companies that are clearly not certified, so what is going on around that? I may also think.
I can't get my package from China.
I think this applies not only to me but also to everyone who imports to China, but due to the coronavirus outbreak, Chinese cities were blocked, and packages were not shipped from China.
Because it took a little time to register for Amazon's listing, the shipment itself was adjusted at the beginning of the Chinese New Year, but the Chinese New Year did not dawn.
When I thought that I could exhibit after the certification was finally completed, I was very shocked that the shipment of the product was greatly delayed by coronavirus this time, but I thought that it was an experience that I can only do now, so I try to be positive.
Two to three weeks later than usual, the Chinese New Year finally dawned, and I immediately arranged for the shipment of goods, but this time I got a notice that the shipping service was significantly delayed. However, when I got here, I had a mind that didn't move at all, lol, and I decided to wait still until Amazon delivery.
When I answered the question in the previous section, it took about 6 months from the start to the launch after overcoming various episodes.
Impressions of selling products for the first time in a side job
It's finally the main subject lol.
To be honest, I used to sell various things at Mercari and so on, so it wasn't the first time to sell things lol.
Of course, it was my first time selling on Amazon, but I felt that it was selling when I noticed it, so I don't have much impressions lol.
At first, I was going to watch the situation, but it started to sell more and more day after day, and I had to move to inventory replenishment immediately.
When I examined the factors in my own way, I was appealing that I was properly certified as a radio law on my product page, but the operators around me did not properly authenticate the Radio Law, or amazon seems to be cracking down, and there was a phenomenon that such (probably) illegal businesses gradually disappeared.
In such a time, you can do business with pride that you are properly certifying. Of course, you should not sell illegal goods in the first place.
Also, the product itself is a gadget that will be necessary in the coming era, and I have feelings for it, so I am very happy to start selling well.
It is such a situation, considering the lead time of inventory replenishment, and selling at a reasonable price without selling too cheaply because it also costs authentication, it still sells one after another, and it is a very happy scream.
It is an impression at this stage, but as a side job startup, I think that it was a good start.
By the way, if the price is raised at any time with it because it sells more and more, the display of "You can purchase it from the seller" appears. I was a little impatient about this, but when I asked Hori-san, I was able to recover immediately.
In the future, I think that our products can be developed advantageously for a while because I am the only one exhibiting with major manufacturers and other businesses (which are probably illegal). First of all, I would like to learn various sales know-how there.
Changes in life that occurred when I started a business
It's a bit abstract, but it's simply broadened my horizons.
Up until now, I have been working my work, and I have been working on the education of my children as much as I can control my time, so I value time with my family.
However, I felt that I had various noticed things and broadened my perspective at once, touching on fields that had not been in my life so far, such as certification and China.
It's strange, and if you broaden your horizons, you'll also come up with new business ideas. Until now, I didn't have room for business ideas. It's fun every day.
I realize that the effect of side jobs also appears in such places. However, if it is a side job from scratch, the amount of work is too much, and there are too many things that I do not understand, so I may not have been able to feel that way.
As an aside, since the knowledge of certification has been attached in this case, if you buy home appliances, you will always see if there is a PSE mark or a radio law mark Lol. Is it an occupational disease lol?
Future development, vision, etc.
As a matter of course, I would like to list at other sales malls to increase sales performance on Amazon.
In addition, I want to challenge not only retail but also wholesale, and since it is a properly certified product, I am confident in safety and I do not have a rival, so I think that I can sell and negotiate with confidence.
For that reason, we would like to catch information such as wholesalers.
In addition to selling products alone, we also plan to develop services that utilize products.
For example, I'm working out the idea that we can deploy it over the Internet or crowdfund it with Makuake. I'm very excited.
In addition, Makuake etc. are checking authentication such as radio law very strictly, but I feel that the options will expand because the problem is cleared.
Finally, if you say ,"Ladies and gentlemen, let's do it in the certification business!" it will be publicity-like, so I don't want to say that too much lol, at least I am satisfied myself.
Unlike general products that can be found in China and sold from the next day, a little initial investment is required first, but being advanced with advantageous products from the beginning seems to be suitable for those who are busy with their main business because there are significant shortcuts.
To be honest, I'm not going to quit my main business right now, but I want to enjoy business in a balanced manner with my main job and side job.
In addition, I had the opportunity to go abroad for work, so I would like to show the present of the world that can never be felt only in Japan by taking the children with me as much as possible. And I think that is the best education in the coming era.
Not only was I able to start a side job, but also in such a private aspect, and I am glad that I started a certification business and a Chinese (overseas) business.
I'm really looking forward to seeing how it will develop in the future.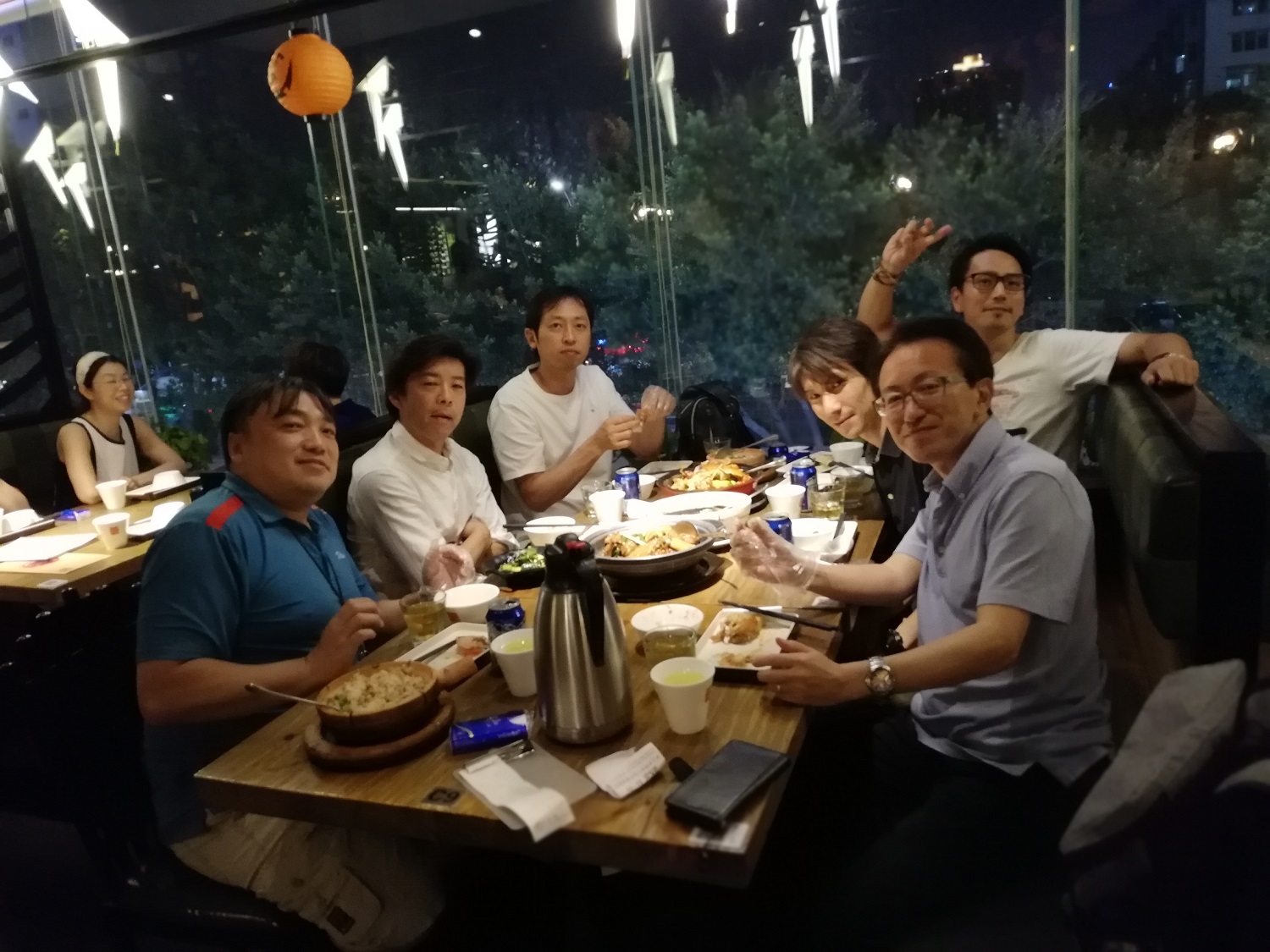 Guangzhou Exhibition in China_Family restaurant near accommodation
It was all dishes that I had never seen in Japan, but it was very delicious.
Mr. Mukai in the middle of the right row.
Inquiries about certification in Japan
Please contact by E-mail