[Must-see! ] What is necessary for basic knowledge of PSE (Electrical Appliance and Material Safety Act) and displaying the PSE mark? Electrical appliances such as mobile batteries and chargers are subject to PSE (Electric Safety Law)
Hello. It is a hori of the manager.
In the previous article, I gave a comprehensive introduction to certifications such as PSE (Electrical Appliance and Material Safety Act), PSC (Consumer Product Safety Act), Radio Law, etc.
As our idea, as I wrote last time, the most important thing for business operators is that certification passes without spending time, cost, etc. as much as possible and concentrates on their own business. I don't think there is time to absorb legal knowledge, but there are also points that need to be known at least necessary. This time, I will tell you the points that you need to know about PSE compactly.
Almost all home appliances distributed in Japan display the PSE mark. In other words, the PSE Act (Electrical Appliance and Material Safety Act) applies to almost all home appliances. More recently, there has been the PSP legislation for mobile batteries. Pse is a PSE that most Japanese consumers do not know, but there are various legal barriers for the business operators that handle it, and minimum knowledge is required.
What is the Electrical Appliance and Material Safety Act (PSE)?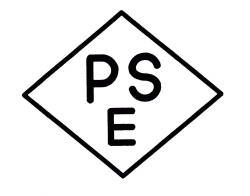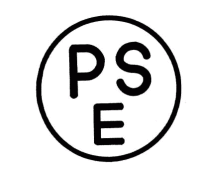 The Electrical Appliance and Material Control Law enacted in 1961 was amended to the current law in 1991, and it is a law under the jurisdiction of the Ministry of Economy, Trade and Industry that became the current law. At the time of the enactment, the Ministry of International Trade and Industry was in charge. Even after 1999, it has been revised one after another, such as the expansion of the target product.
To summarize the background of the enactment of the PSE Law from the preface of the law,
"As the period of rapid economic growth reached, the Electrical Appliance and Material Control Law was enacted against the background of the rapid spread of home appliances and the frequent fire accidents caused by poor electrical appliances at that time." From the historical background, the significance of PSE becomes easy to understand.
In general, the electrical appliances specified by the Ministry of Economy, Trade and Industry include home appliances that use power outlets, mobile batteries, some LED lamps, LED lighting fixtures, lighting fixtures, etc. In particular, it is almost 100% that uses a power outlet, and it is necessary to display the PSE mark.
If you display something that does not display the PSE mark for sale or sale purposes, there are various penalties such as imprisonment for not more than one year, a fine of not more than 1 million yen, or a fine of 1 million yen or so on. Depending on the conditions, fines of up to 100 million yen or less can be reached.
In addition to penalties, selling illegal goods will lead to a loss of social credibility, and losses will be significant.
By the way, PSE is an abbreviation of Product Safety Electrical Appliance and Materials.
"Electrical appliances and goods designated by the Ministry of Economy, Trade and Industry" already covers the applicable electrical appliances in the Ministry of Economy, Trade and Industry, and when selling the corresponding electrical appliances, it is necessary to inspect the products by an inspection organization and apply to the ministry.
In this way, some people expect that the product they want to handle will be "an electrical appliance that does not apply", but basically it corresponds to the 99% level.
Some commercial beauty containers may not apply, but the Ministry of Economy, Trade and Industry has also listed them quite closely.
PSE is classified into two categories other than specific electrical appliances and specific electrical appliances.
So what is pse coverage?
Please see the figure quoted from the Ministry of Economy, Trade and Industry page.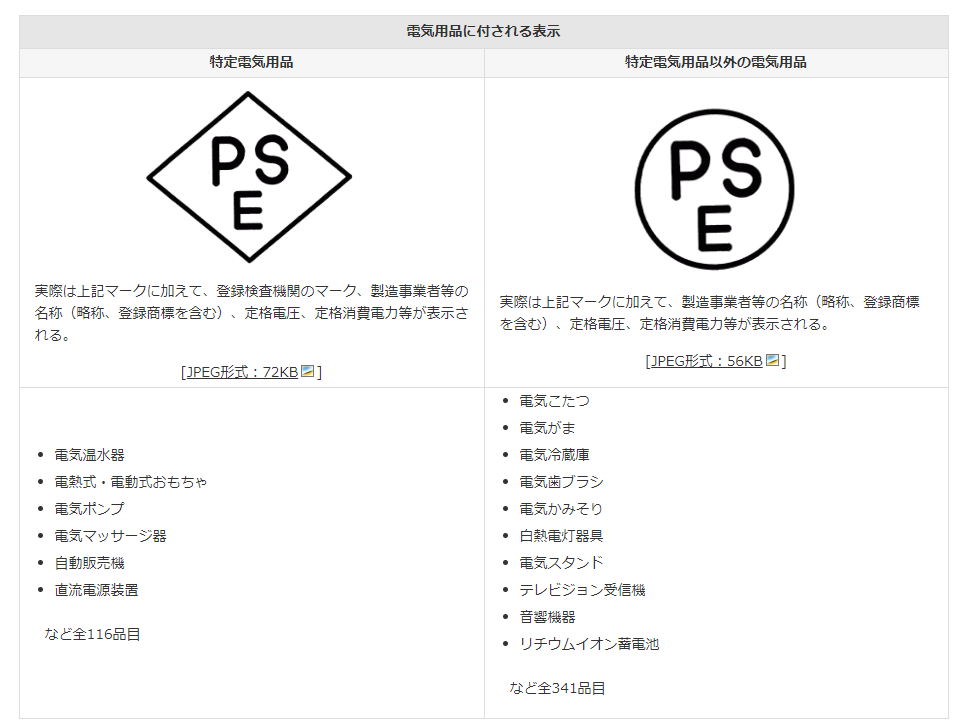 *Citation: Ministry of Economy, Trade and Industry,"Outline of the Electrical Appliance and Material Safety Act"
There are 116 items of specified electrical appliances (commonly known as diamond-shaped PSE) and all 341 items other than specified electrical appliances (commonly known as round PSE). That's a great number, isn't it? In addition, specific electrical appliances are images that have a more complex structure and a high degree of danger, and other than specific electrical appliances. However, it does not mean that specific electrical appliances are easy. I think that the recognition that it compares both to the last is correct.
Points where it is difficult to inspect specific electrical appliances
Of course, individual products are different about the difference between specific electrical appliances and specific electrical appliances, but the biggest difference between the two companies is that specific electrical appliances and materials are inspected by inspection engines.
In addition, because there are things that can and cannot be inspected by each inspection organization depending on the classification of electrical appliances and materials, it is also the job of the business operator to investigate such things, and it is quite troublesome.
In particular, the most important point is that if the production plant is overseas such as China, it is necessary to dispatch inspectors to the site, and it may be fine if it is a major company, but if it is a small and medium-sized enterprise, it is difficult only by itself. In addition, it is absolutely necessary to check whether an overseas factory has a Japanese PSE production facility before inspection.
As I will tell you in detail in the next page, we can inspect factories using Chinese inspection agencies, and pse experts in China can be dispatched to factories for preliminary checks. If you have any orders, please contact us.
How to distinguish PSE-eligible products from non-eligible products, and USB products are not PSE eligible?
Most of the home appliances in the world are PSE. If you observe the electrical appliances in your home, the PSE mark will always be displayed. Rather, what is not is illegal.
By the way, those that use an AC adapter for power supply, such as laptops and cordless vacuum cleaners, require a PSE display on the AC adapter.
Basically, products sold at real stores such as home appliance mass retailers will be genuine products with PSE indications without problems. In such a place, only regular manufacturers are treated, and the store side also becomes a credit problem, so I think that the selection of the trader is quite severe.
On the other hand, usb charging is one of the non-PSE products. For example, portable fans that are popular in summer are USB charging type, so they are not subject to PSE.
In recent years, in order to counter PSE measures, there are many USB charging products, mainly Chinese operators, and it is available with it if it is a small capacity power. In addition, products used by connecting to the cigar socket of the car are not eligible for PSE. If you pay pse authentication fee, it may be one hand to handle USB charging products. In addition, products that use batteries (without lithium-ion batteries) are not eligible for PSE.
【Important】PSE legislation of mobile batteries and the concept of target products
Since February 2019, mobile batteries equipped with lithium-ion batteries have become PSE legislation, making handling has become very strict.
The legislative background is that lithium-ion battery fire accidents have occurred frequently.
For an overview, please refer to this page of the Ministry of Economy, Trade and Industry.
In addition to the mobile battery that is often seen in the streets, as a little professional content, wireless earphone stand etc. are also targeted. Although this product is a small product, two things are required: wireless radio law certification and stand PSE certification.
However, one thing to keep in mind is that mobile batteries (lithium-ion battery specifications) for the purpose of powering others are PSE targets, so for example, rechargeable cordless cleaners using AC adapters are not PSE targets. In that case, only ac adapters are eligible for PSE.
Beware of malicious illegal items! Illegal examples such as hiding the PSE mark
This is actually confirmed with my own eyes, so I dare to say it by real name, there are so many electrical appliances sold by Chinese companies at Internet malls such as Amazon that do not have PSE indications or pse indications are incorrect. In other words, it can be inferred that it is an illegal product that has not been properly inspected by PSE. Of course, there are cases where Japanese companies also handle illegal goods.
In any case, you should be careful about electrical appliances that are too cheap. As a problem of PSE illegal products, (1) the safety of products that use electricity has not been officially proven, (2) uncertainty of responsibility in the event of an accident with the product, especially in the case of Chinese operators.
I will also write about pse procedures in the next article.
Announcements
We are currently recruiting agents for our certification agency business.
Why don't you start a side business with a certification agency model that makes a profit of 100,000 yen or more with a single order?
For details, please access the information page from the banner below.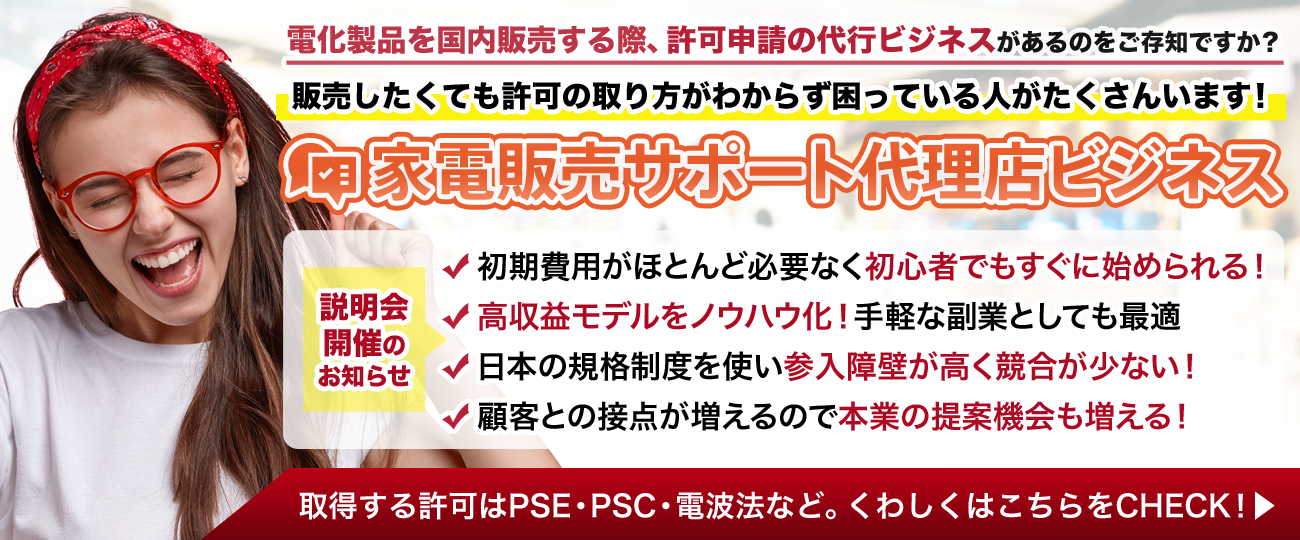 認証・中国ビジネスに関するお問い合わせは
INSIGHT WORKSホームページから
メールでのお問い合わせ
認証ビジネスについて学びたいなら最新情報をキャッチ
無料メルマガ「認証の原理原則」に登録!
数々の認証を経験・成功させてきた堀雄太が認証ビジネスに軸にして、中国・日本における新規認証ビジネスの構築の仕方や、中国ビジネスなどを紹介しています。
初めて認証に取り組みたい方へのお役立ち情報や、自身で依頼主様の認証サポートを行いたい方に向けてセミナーや勉強会なども予定しておりそうした情報をいち早く告知させていただきます。
2020年8月21日(金)より毎週1回配信!